Although a widely established PropTech platform, creating more tenancies in New Zealand than any other platform, Tenancy.co.nz or TPS has been constructed with compliance at heart, led by industry guru Scotney Williams, and a team of specialists who have provided consultancy services for over 30 years.
Their inspection booking, tenancy application and agreement software go hand in hand with master class training, tenancy tools and resources to provide guidance and education to our rapidly evolving industry.
They stand for compliance, strive for software solutions, and deliver in spades.
TPS has developed a sophisticated property management workflow, TenantFlow powered by Bookme, providing an end-to-end solution enabled by API integrations. From the first listing on Allhouse, realestate.co.nz, or your agency website, through to Bookme inspection bookings, eBundle digital applications, Tenantcheck for credit and reference checking, Tenant Agreement and then straight into PropertyMe.
No more jumping between platforms, or mistakes made from back-and-forth data entry, the solution is completely integrated from the first listing, through to the trust account and management platform.
Learn more about TPS services, including:
Compliance Manager
Providing a Healthy Homes ecosystem through a comprehensive directory of companies, as well as integration, allowing a bird's eye-view of your Portfolio's compliance statuses.
Tenantcheck
A background and credit reporting system exclusive to Property Managers, with just a single click to vet tenants in real-time.
Total Tenancy
A blueprint for adapting to the Residential Tenancies Amendment Act, with every resource, best practice protocol, template, notice, contract and clause needed to comply with the Residential Tenancies Amendment Act 2020.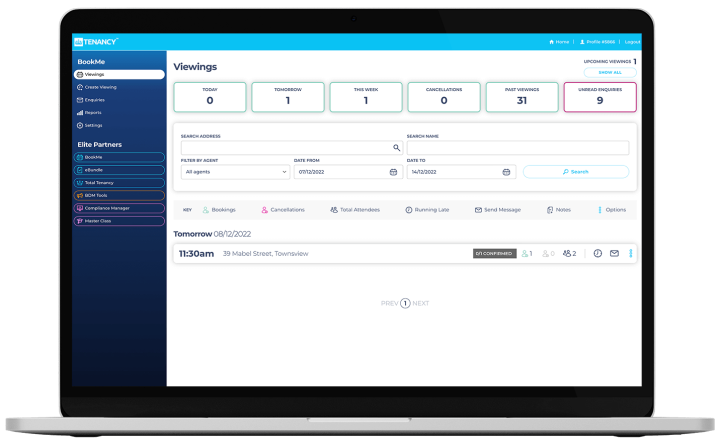 eBundle Pro
An electronic tenancy application hosted on your website, integrated with TPS' tenant background, credit and reference checking systems, and a seamless connection with their cloud-based tenancy agreement.
Team Connect
Exclusive coaching and consulting services for TPS customers with support for legal and property management issues providing consistency and peace of mind.
Master Class
Specialised training for Property Managers on legislation and compliance within the Residential Tenancies Act 1986 and other complementary legislation. With the Masterclass online training platform, Property Managers can get trained, tested and receive a certificate to display. Total Tenancy then provides full-time access to their Property Manager's handbook — the electronic version of their in-house residential tenancy expert.
NZ Collections
With ethical business practices and social responsibility, TPS' Auckland-based team provides support to help debtors get debt-free as fast as possible, recovering unpaid Tenancy Tribunal orders.
Tenant Portal
A portal for tenants to easily access and update their personal information, manage their viewings and applications and sign their tenancy agreements online. All information is encrypted to the highest standard so Property Managers and tenants can rest assured that information is secure.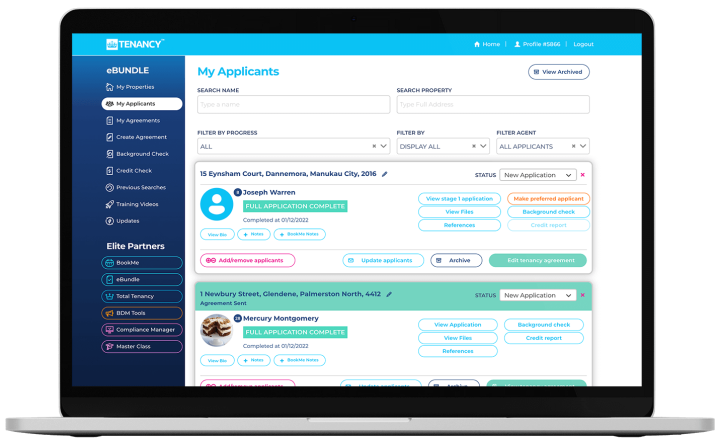 The TPS + PropertyMe Integration
Hear what Gavin Van Lierop from LJ Hooker Matamata has to say about the Integration between TPS and PropertyMe
"I'm based in Matamata, I've been in the Industry for coming up six years. Like most of us, I fell into it. Since I came along we have been with TPS and we know that it's the product we should be using. I moved across to PropertyMe, two years ago. I shopped around for about three months and we got down to about three and PropertyMe rose to the top, especially after speaking to a couple of people that were already using it in the country here, because it has to work for us here, in New Zealand.
I had the integration going in about three days and straight away it was awesome. For anyone who's had that TPS integration before, it's exactly the same. Put it into PropertyMe and it's there, applications, everything is going against it. The agreement is done, pushed to the software provider and all the data is in there, the data is correct and we haven't mistyped a phone number in our hurry, which means receipting is happening instantly.
People use the word 'game-changer' a little bit too much I think, but it really is.
The integration has probably saved us about a couple of hours each week, which doesn't sound like a lot, but across the year, that's a work week that you've saved straight away.
If anyone out there is thinking about moving across and want to reach out to somebody actually using the system and has been for a while I'm happy to have a chat or an email and answer questions.
We are also spread across three towns now and we're looking at that VA route and PropertyMe just works beautifully with all of it. The Integrated inbox, the open integrations that sort of thing.
Before this I had three other programs we were integrating with to try and get that customer-based service we were after, and moving to PropertyMe we've got it down to one, down to Tapi, which was a non-negotiable when we did this anyway."
To learn more about the TPS and PropertyMe Integration, watch our webinar here, or contact TPS by calling 09 304 0853 or emailing [email protected].