While there are a number of ways to attract potential buyers and quality tenants, an overwhelming number of agents said that nothing beats great real estate photography. Not only can great photos set your listing apart but it can also increase property enquiries.
However, professional real estate photography often costs hundreds of dollars and may not be cost-effective for every property. So how do you achieve great listing photos without engaging a professional photographer?
Enter BoxBrownie.com, a real estate photo enhancement and visual marketing service based in Queensland, Australia. Here's how they can help you up your real estate photography game and increase property enquiries for less than $50:
1. Enhance your listing photos for $2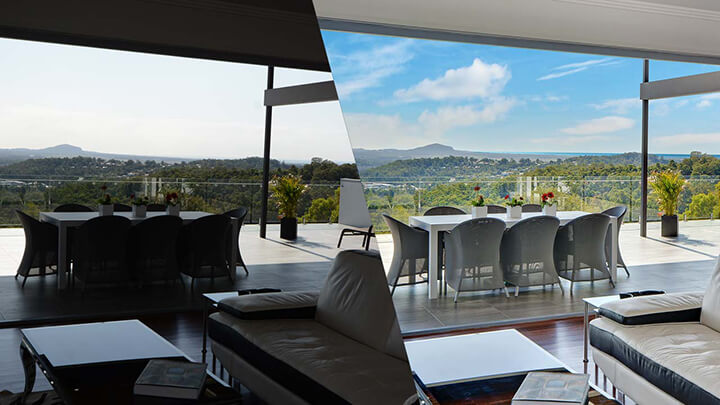 Image credit: Boxbrownie.com
Yep, you heard right! For some loose change, BoxBrownie.com will tweak your existing photos using their 16 step enhancement process.
The process includes removal of minor blemishes, lens distortion, flash reflection and dust spots, brightness and contrast adjustment, straightening, sharpening, outdoor sky replacement, lawn enhancement, adding fire to fireplaces, HDR bracketing with indoor window replacement and more.
The result? High quality, professional photos for your property listing, even if you took them on your smartphone.
2. Stage using virtual furniture for $40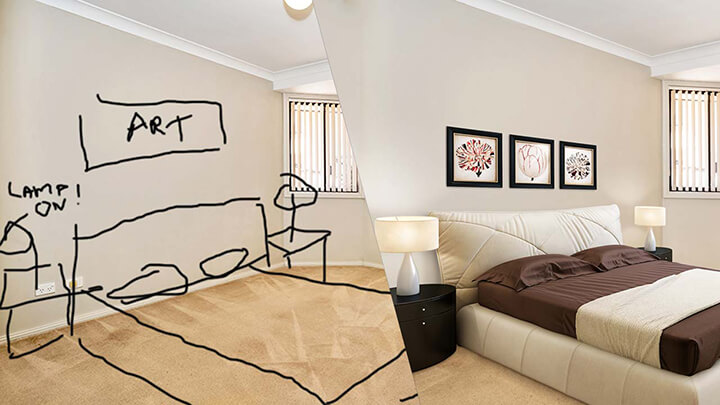 Image credit: Boxbrownie.com
Many real estate agents will invest hundreds, if not thousands of dollars on home staging for good reason. It can help lease or sell a property faster and increase the perceived value of the property.
However, if you don't have the budget or time for that, you can always try staging using virtual furniture. This allows prospective buyers and tenants to better envision the potential of the space and what their lives could look like if they lived in the property. Alternatively, you can try these 20 simple home staging ideas on a budget.
3. Include a floor plan from $30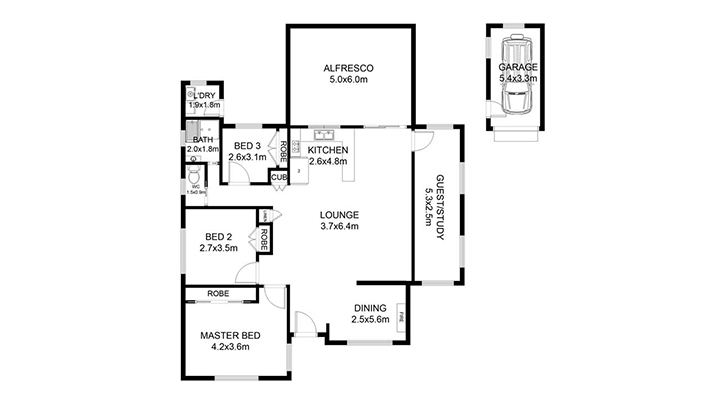 Image credit: Boxbrownie.com
According to Realestate.com.au, 84% of agents said that floor plans are important when marketing a property. Floor plans help potential buyers and tenants understand the layout of a property and visualise how they can furnish different rooms. This not only creates emotional attachment but also increases their time spent on the listing.
When creating a floor plan, be sure to show important details such as measurements, windows, doors and storage spaces. This allows your prospective clients to piece together the floor plan with different parts of the listing to create a complete visualisation of the property.
4. Remove items from $20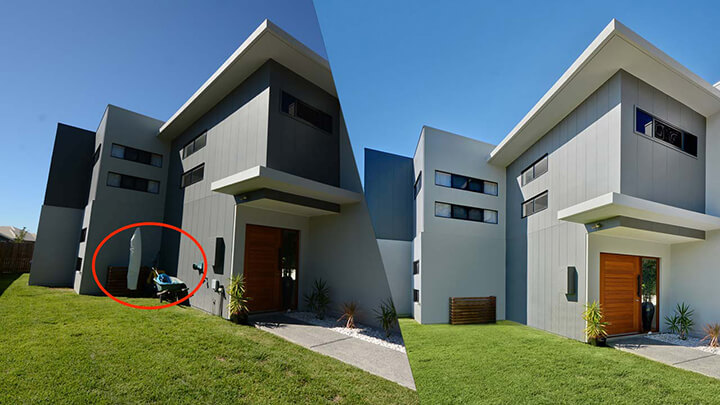 Image credit: Boxbrownie.com
When you have a tenanted property, it can be hard to get the perfect shot due to unwanted furniture and clutter. These elements create focal points that detract from the image and make the property look unappealing. Just check out the differences between the two images above!
Additionally, digital removing extra items such as appliances and mismatched furniture can create a more spacious interior and make a property look much more clean and welcoming.
5. Retouch exterior property photos for $5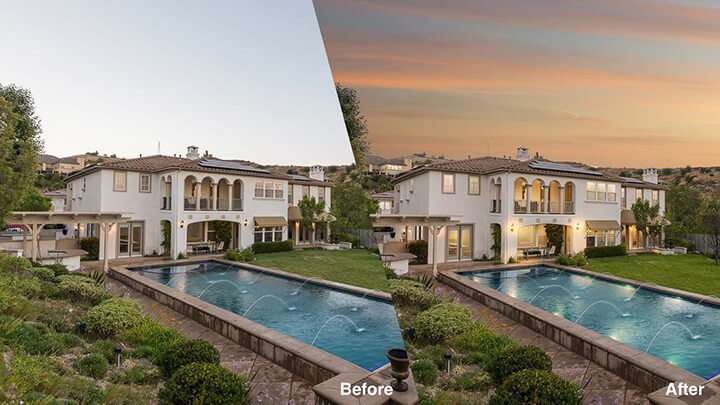 Image credit: Boxbrownie.com
Exterior property photos are crucial to listing click through rates and enquiries as they often form the hero image of the listing. A great exterior property photo can set your listing apart and boost buyer and tenant interest.
In addition to replacing the sky and enhancing the image, BoxBrownie.com can also digitally alter interior or exterior lighting and add fire to fireplaces to make the property look warm and inviting.
Lastly…
When taking real estate photos, make sure your photos look as close as possible to how the space appears in real life. This way, you don't risk misrepresenting the space and inflating expectations for potential buyers and tenants. The aim is to portray the property in the best light and add visual interest with minor enhancements.
Thanks for reading! If you were looking for more ways to increase property enquiries, check out these Simple Home Staging Ideas on a Budget, 12 Ways to Attract Quality Tenants and the 10 Essential Real Estate Video Marketing Ideas to 4x your listing enquiries.
Disclaimer: We're not affiliated with BoxBrownie.com in any way. We were simply very impressed by their work and thought you might benefit from their services too!
Edit: BoxBrownie.com kindly provided PropertyMe Monthly Insiders with a discount code. Use the code "RentMore" for four additional image enhancements upon sign up (on top of their sign up offer). This code is available to new BoxBrownie.com clients and is valid till 30 November 2017.
If you've used BoxBrownie.com or another similar service, please let us know in the comments below.