Australia is currently experiencing the lowest vacancy rate we have witnessed since 2006, sitting at 0.9%. With the rental market remaining exceptionally tight, the past month saw another increase in asking rents. Additionally, the increased cash rate suggests inflation will peak at a far higher rate than previously anticipated. Read on to get all the details.
Vacancy rates
According to the most recently available data from SQM Research, the national residential property vacancy rate has remained constant over several months, sitting at 0.9%. This is the lowest vacancy rate Australia has experienced since 2006. In total, 33,813 vacant properties were recorded in September, a minor increase from August.
In Melbourne and Sydney, vacancy rates remained steady at 1.4% and 1.3%. Brisbane, Adelaide, Darwin, Perth, and Hobart saw vacancy rates sit well below 1.0%. Aside from Darwin, each of these cities saw a rise in vacant properties over the month.
In Sydney CBD, vacancy rates remained steady at 3.1%, while Brisbane CBD rose to 2%, and Melbourne CBD rose slightly to 2.3%.
Louis Christopher, Managing Director of SQM Research said, "While the rental vacancy rate remained steady at 0.9%, there was actually a slight increase in vacancies over the month driven by a rise in new rental listings compared to August. We note there was also a rise in rental vacancies within the Sydney, Melbourne, and Brisbane CBDs."

Rental values
Over the past year, rents across Australia's capital cities rose by 17.7% for homes and 21% for units. Over the past month till the 28th of October, rents rose by 1.3% for homes and 1.4% for units across all capital cities.
Nationally, the average asking rental price sat at $604 for houses and $466 for units during October. The highest median asking rent was recorded in Sydney for houses at $867.48 per week, and units at $575.11 per week. This was followed by houses in Canberra, Darwin, Brisbane, and Perth, with asking rents sitting at $747.12, $660.77, $635.01, and $606.34 respectively.
Louis Christopher, Managing Director of SQM Research highlighted, "Overall, the rental market remains extraordinarily tight and so it is little surprise to note yet another month of asking rent increases. Over the past 30 days, we have combined national asking rents up by a further 1%. Going forward, history tells us when we reach the late Spring, or early summer period, we could see a seasonal increase in vacancies. However, there remains a structural issue with the rental market for which increases in the construction of new dwellings will only resolve."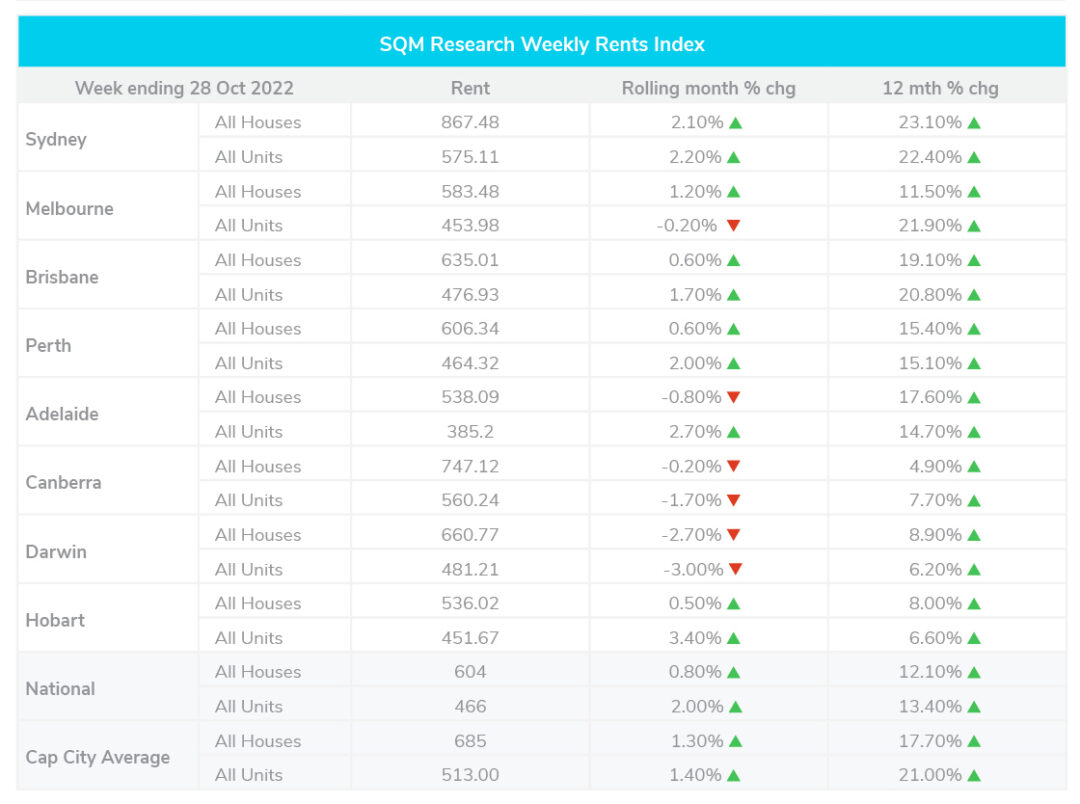 Property prices
Over the past 12 months, property prices have grown nationally by 12.6% for houses and 11.4% for units. Across Australia's capital cities, prices have increased by 6.6% for homes and 4.4% for units. In Melbourne, compared to the previous month, house prices remained unchanged, while unit prices dropped slightly by 0.3% over October. During this same period, house prices also remained unchanged in Brisbane, while units increased slightly at 0.7%. In Sydney, house prices increased slightly by 1.3% while units increased by 0.7%. The greatest increases over October were recorded in Hobart, with houses increasing by 1.8%, and Perth, increasing by 1.6%.
Over the past 12 months, Canberra, Adelaide, and Brisbane take the top spots for homes with the greatest increase in asking prices, increasing by 23.7%, 20.9%, and 19.2% respectively.
Louis Christopher, Managing Director of SQM Research said, "Overall, it was a disappointing month for sellers and their respective agents in the capital cities. Sellers would be wise to meet the market in this environment if they want to sell. I note our asking prices index was actually up a little, which is only going to hurt sellers in this current downturn."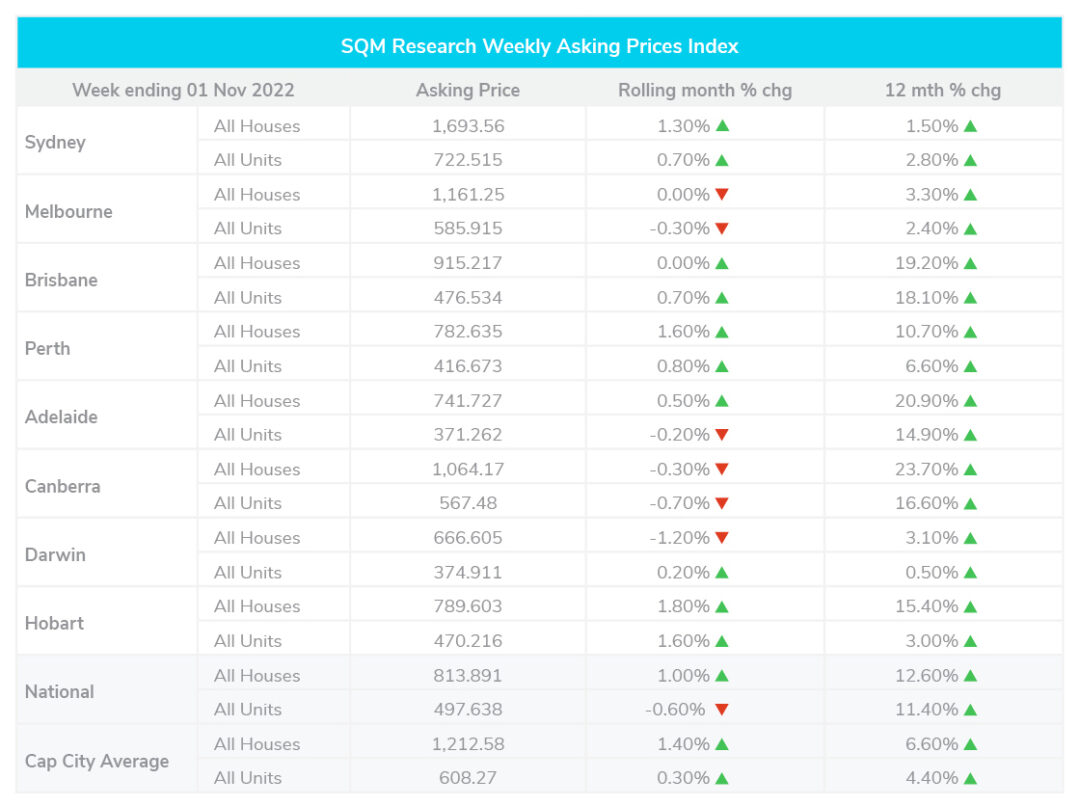 Cash rate and predictions
The Reserve Bank of Australia has lifted interest rates for a seventh consecutive month, warning that it now expects inflation to peak at a far higher-than-expected 8 per cent by the end of 2022. The cash rate currently sits at 2.85 per cent.