SQM Research reported that the nationwide residential rental vacancy rate remained unchanged in February at 1.0% while the number of rental vacancies in Australia slightly increased by 448 dwellings. Over the past 30 days, national asking rents have remained steady with a 0% rise for houses and decreased by -0.4% for units. Residential property listing prices fell by -1.3% nationally over the past 30 days, however, in capital cities the asking price rose by 1.3%
Vacancy rates
SQM Research reported that the nationwide residential rental vacancy rate remained unchanged in February at 1.0% while the number of rental vacancies in Australia slightly increased by 448 dwellings in February 2023, bringing the total to 32,040 residential properties.
Among the capital cities, only Melbourne experienced a decrease in rental vacancies, which fell to 1.1%. In contrast, Canberra, Darwin, and Hobart all recorded a rise in vacancy rates, reaching 1.8%, 1.4%, and 0.9%, respectively.
Meanwhile, rental vacancy rates remained steady in Sydney, Brisbane, Adelaide, and Perth with rates of 1.3%, 0.8%, 0.5%, and 0.4%. In the CBDs of Sydney, Melbourne, and Brisbane, vacancy rates dropped significantly to 2.6%, 2.2%, and 1.2% respectively, which may be due to the sudden surge in demand from international students.
In regional areas, rental vacancy rates reversed the falls observed in January and rose over February. The Blue Mountains in Sydney, the Mornington Peninsula in Melbourne, and the Gold Coast in Queensland all recorded sharp increases in vacancy rates, reaching 1.9%, 1.4%, and 1.0%, respectively.
Louis Christopher, Managing Director of SQM Research said "I was expecting a decline in rental vacancy rates over February. However, the result came in steady and indeed we recorded sharp rises for some regions. Further, I think we now have hard evidence that the rental crisis is now easing in Canberra, Darwin, and Hobart. It isn't just February we have recorded rises in these cities; they are also up compared to this time in 2022."

Rental values
Over the past 30 days, national asking rents have remained steady with a 0% rise for houses and decreased by -0.4% for units. The capital city average for the same period has increased by 2.2% for houses and 2.1% for units.
National asking rents across all regions have increased by 10.8% for houses and 12.7% for units over the last 12 months to 4 April 2023. Over the same period, Capital city asking rents have increased by 18.8% for houses and 25.8% for units. SQM Research observes that the national rental increase may be now following the trough and rise in rental vacancy rates that have been observed in the regions. The sharpest rent increase can be found in Sydney units at 30.2%, and the only decrease seen is in units in Darwin at -2.0%.
The national median weekly asking rent for a house is $636 and a unit is $489.
Louis Christopher, Managing Director of SQM Research said "Could we be seeing some light at the end of the tunnel for our national rental crisis? Perhaps for some cities and regions, yes. However, we still remain very concerned for the situation in Melbourne, Sydney, and Brisbane we most international arrivals first land."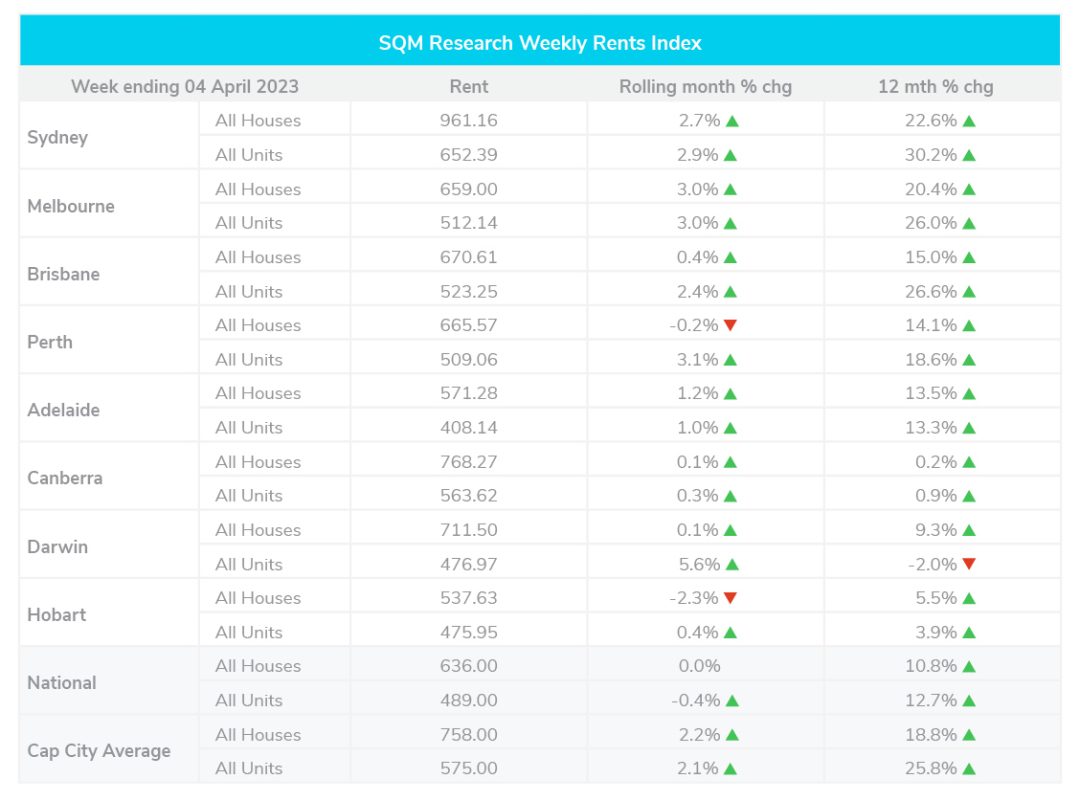 Property prices
National residential property listings rose in March by 7.9%, and new listings (less than 30 days) increased by 6.8% in March — a 14.2% increase over the past 12 months. All capital cities recorded a rise in total listings for the month.
Asking prices fell by -1.3% nationally over the past 30 days, however, in capital cities the asking price rose by 1.3%, driven by a 2.3% increase in Sydney asking prices. Across the past 12 months, national asking prices have increased by 3.8% for houses and 5.7% for units.
Louis Christopher, Managing Director of SQM Research said "March recorded a combination of rising newer listings as well as a build-up of older stock not selling. There are now more property listings in the market than what we recorded this time last year. However total listings remain well below long-term averages."
"SQM has recorded ongoing weakness in the regions… However, Sydney property sellers actually lifted their asking prices last month. And one only does that when there are more buyers in the market."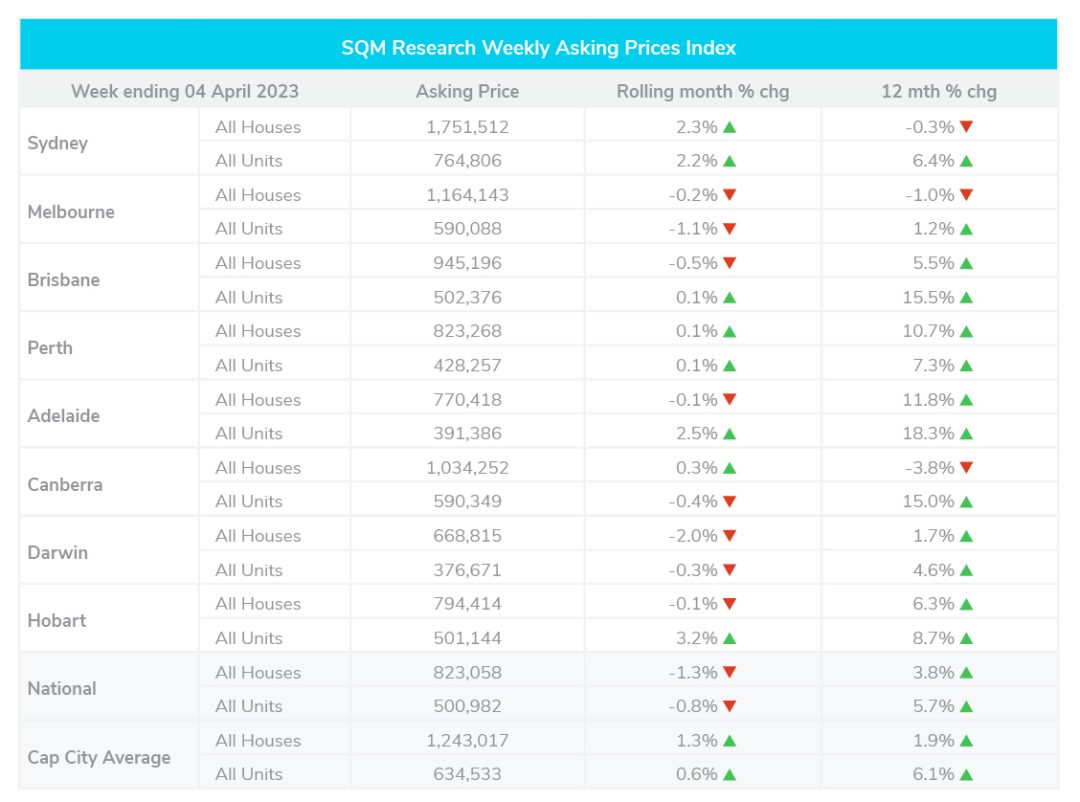 Cash rate and predictions
March saw the RBA raise the interest rate an additional 0.25 basis point, to a target cash rate of 3.60%.
Disclaimer: the information enclosed has been sourced from SQM Research and Reserve Bank of Australia, and is provided for general information only. It should not be taken as constituting professional advice.
PropertyMe is not a financial adviser. You should consider seeking independent legal, financial, taxation, or other advice to check how the information relates to your unique circumstances.
We link to external sites for your convenience. We are selective about which external sites we link to, but we do not endorse external sites. When following links to other websites, we encourage you to examine the copyright, privacy, and disclaimer notices on those websites.