The national vacancy rate decreased in January, back to 1.0% after the seasonal rise recorded in December. Overall capital city rents rose by 2.4%, with Melbourne experiencing the highest increase at 2.7%, while Hobart and Canberra decreased by 2.9% and 1.3% respectively.
Vacancy rates
SQM Research has reported that the national vacancy rates in Australia decreased to 1.0% in January after a seasonal rise in December 2022. The total number of rental vacancies in Australia decreased to 31,592 residential properties in January. Sydney, Melbourne, Perth, Brisbane, and Canberra recorded falls in their respective vacancy rates, while only Hobart recorded a rise in its vacancy rate.
Vacancy rates in the Sydney CBD, Melbourne CBD, and Brisbane CBD decreased, reflecting an increase in demand from international students. Most regional rental vacancy rates fell, except for the Gold Coast in Queensland. The national rental market has returned quickly to its extremely tight conditions, which are likely to continue or worsen in February and March due to the surge in net overseas arrivals relative to new residential property supply.
Louis Christopher, Managing Director of SQM Research said, "We are expecting a further tightening in rental vacancy rates over the month of February based on evidence that weekly listings have fallen again thus far in the current month. We have previously warned that the months of February and March will be the most difficult time for tenants in the national rental market in many years."

Rental values
As of February 12, 2023, asking rents in capital cities increased by 2.4% over the past 30 days, resulting in a 12-month increase of 24.7%. In contrast, national rents across all regions rose by 17.4% during the same 12-month period. However, Canberra and Hobart saw a decline in their asking rents by 1.3% and 2.9%, respectively, for the month, while Melbourne experienced the largest monthly increase of 2.7%.
The median weekly asking rent for a dwelling nationwide is $562. Among the capital cities, Sydney had the highest weekly rent for a house at $913, while Adelaide offered the most affordable rental units at $401 a week.
Louis Christopher, Managing Director of SQM Research said, "The ongoing surge in rents is pushing up rental yields, especially with falling prices. I believe 'would-be' investors will be attracted to higher rental yields in later 2023, provided the cash rate peaks at below 4%. However, if the cash rate rises above 4% it is likely home buyers including investors will largely stay away from the housing market for another year, and so investment dwelling approvals will remain in the doldrums, setting us up for another super tight rental market in later 2024 and 2025."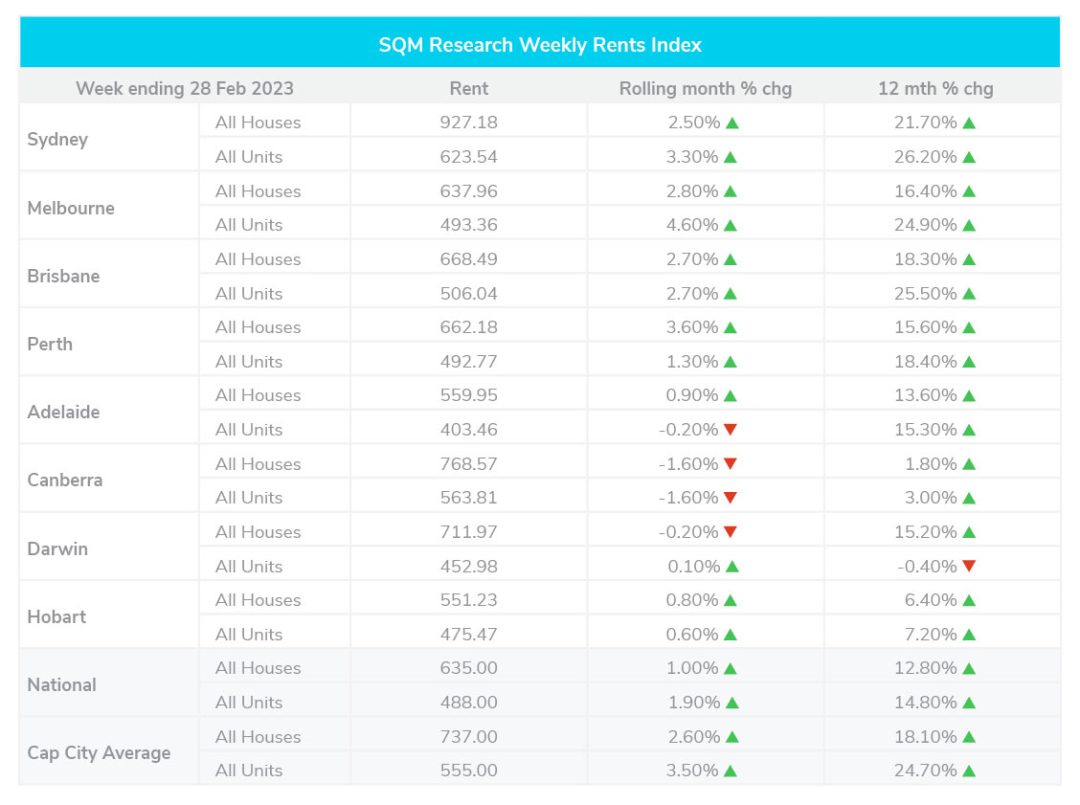 Property prices
Over the month to 31 January 2023, the asking prices for combined dwellings in the country decreased by 0.1%. The asking prices for dwellings in capital cities also declined by 1.2% during the same time frame. Despite the decline in actual prices during this downturn, asking prices have remained relatively stable. This lack of agreement between buyers and sellers has resulted in a significant decrease in the number of property transactions and clearance rates.
Residential property listings in Australia decreased by 5.8% to 215,144 dwellings in January from the previous month. New listings fell by 19.6% while listings that were more than 180 days old increased by 1.3%. The national combined dwelling asking prices also fell by 0.1%, while distressed property listings fell by 3.0%.
Louis Christopher, said, "The January holiday period is traditionally a quiet time for listings so it is no surprise we recorded a fall in activity over this month. However, attention should be given to the new listing counts, whereby there has been a 13.8% fall in new listing activity compared to this time, last year. Most property owners believe it is a bad time to sell right now and so are holding back, waiting for a housing market recovery. There are very few forced sellers out there as our distressed listings index reveals, which indicates, thus far, a market under no great stress."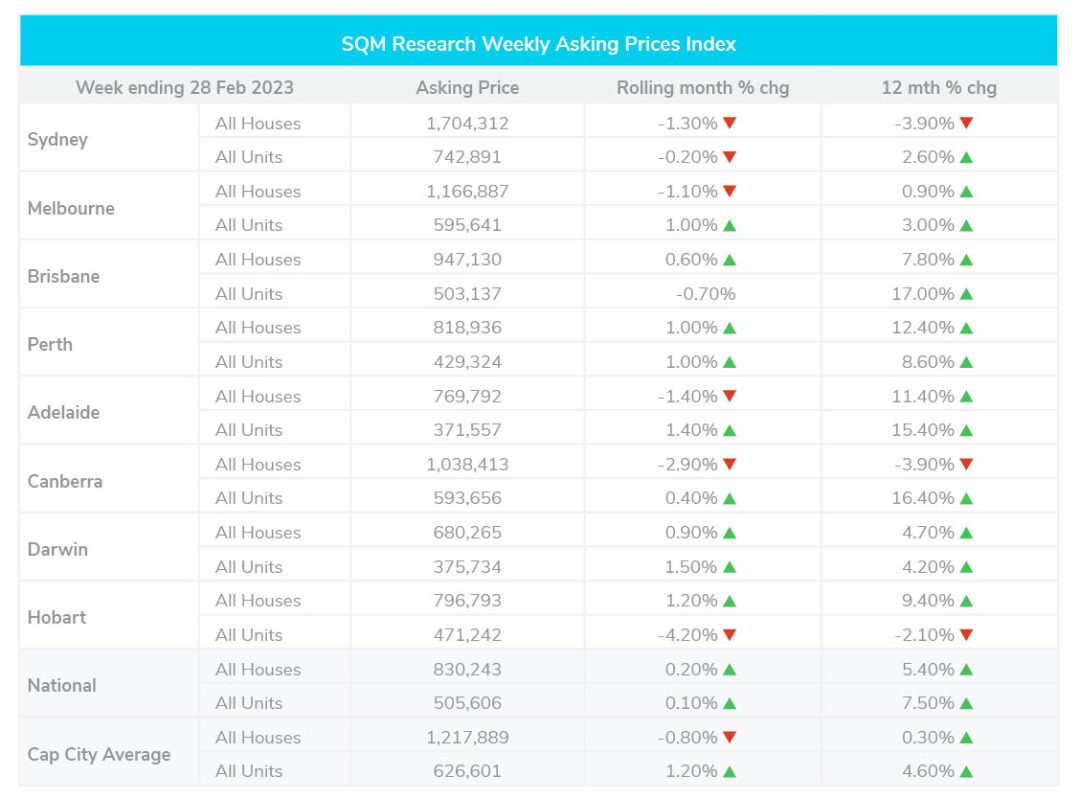 Cash rate and predictions
February saw the RBA raise the interest rate an additional 0.25 basis point, to a target cash rate of 3.35%
Disclaimer: the information enclosed has been sourced from SQM Research and Reserve Bank of Australia, and is provided for general information only. It should not be taken as constituting professional advice.
PropertyMe is not a financial adviser. You should consider seeking independent legal, financial, taxation, or other advice to check how the information relates to your unique circumstances.
We link to external sites for your convenience. We are selective about which external sites we link to, but we do not endorse external sites. When following links to other websites, we encourage you to examine the copyright, privacy, and disclaimer notices on those websites.