May showed positive signs for owners in both Melbourne CBD and Sydney CBD where vacancy rates have finally dropped from their substantially high levels. This reduction was seen Australia-wide, with the national residential rental vacancy rate dropping further compared to the previous month. Compared to the previous year, there was a 3.5% drop for unit rental values. Australian house prices continue to rise.
Vacancy rates
Over the month of May, the national residential rental vacancy rate fell to 1.8% from 1.9% in April. This ongoing reduction in vacancy rates across Australia has pushed rental prices up, especially in regional Australia.
Good news for owners in Melbourne and Sydney CBDs where vacancy rates also dropped from their extra high levels. Vacancy rates dropped in both CBDs to 6.8% and 8.0% respectively. Although they saw a drop, the rates are still elevated due to apartment oversupply. Overall, Sydney's vacancy rate fell to 2.9% from 3.1% in April. Melbourne fell from 4.0% in April to 3.7% in May across the state.
The vacancy rate remained under 1.0% in Perth, Adelaide, Canberra, Darwin and Hobart. Brisbane's rate fell from 1.4% to 1.3%. There were 62,144 vacancies recorded in total across Australia by the end of May. Down by 4,267 vacancies compared to April.
Louis Christopher, Managing Director of SQM Research said:
"In what is long-awaited news for landlords in the Melbourne and Sydney CBDs, vacancies rates have fallen there too… However, the loss of international student tenants, along with unit oversupply, will keep vacancy rates relatively high as the COVID-19 pandemic continues."

Rental values
Compared to the previous year, house rents rose 15.1% and 8.10% for units across Australia (week ending 28 June 2021). This nationwide growth has been fuelled by the substantial increase in rents in regional locations. Over the month till 28 June 2021, there was a 2.5% increase in capital city average asking rents for houses and a 1.20% increase for units.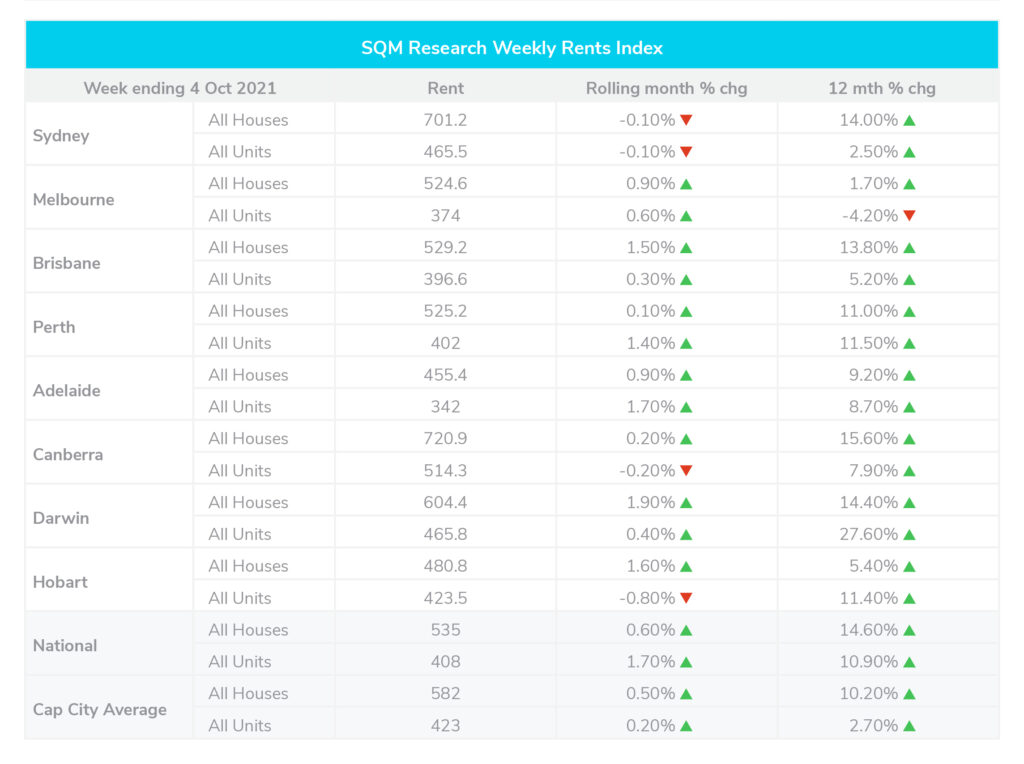 Property prices
Over June, national property listings fell by 4.0%, dropping from 245,953 in May to 236,218 in June. Compared to the previous year, listings dropped by 21.6%. Property prices continue to rise with more buyers than sellers in the market. Australia-wide, new listings (less than 30 days) fell by 9.1% over June. Compared to 12 months ago, new listings are up by 26.2%.
In June, the greatest drop in new listings was seen in Melbourne and Canberra, seeing a drop of 21.7% and 10.1%, respectively. Darwin saw the biggest increase in new listings compared to the previous year, which grew by 179.4%. Over June, asking house prices surged by 2.8% in capital cities, while unit prices grew by 2.2%.
Compared to last year, there are fewer property listings across Australia. This reduction in available houses on the market is contributing to the growing property prices. To be exact, national listings fell by 21.6%, with the biggest fall being seen in Hobart, Canberra, Adelaide and Brisbane.
Louis Christopher, Managing Director of SQM Research said:
"We note the current pace of the housing market is not sustainable over the long term. And we also note the current worldwide housing boom, strongly suggesting this strong upturn in Australia has been driven largely by ultra-low interest rates and easier lending standards. In time, there will be a change in these monetary settings which will trigger a downturn."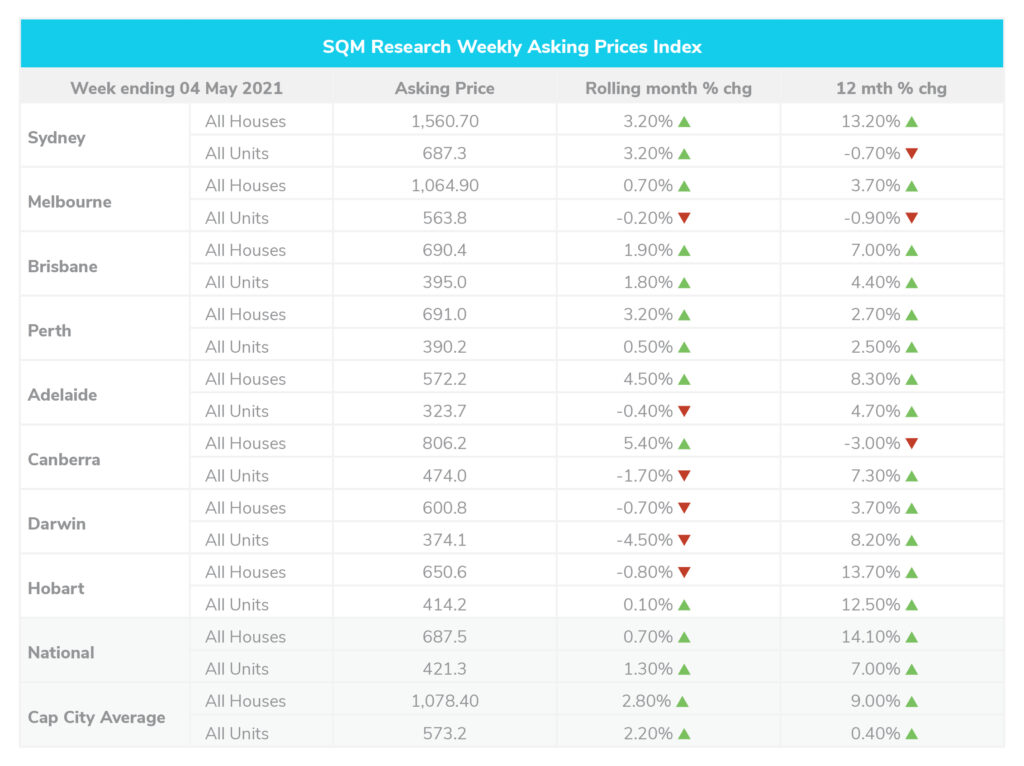 Cash rate and predictions
The cash rate was held unchanged at 0.1%.
The board has signalled that the cash rate is likely to remain on hold until 2024 at the earliest.