The national vacancy rate increased to 1.3% in December, which has been attributed to seasonal factors by SQM Research, with a warning still in place for extremely tight rental market conditions in January and February. National weekly asking prices have increased by 1.1% over the past 30 days (16 January 2023).
Vacancy rates
An increase in vacancy rates to 1.3% nationally over December has been attributed by SQM Research to seasonal factors, with a warning still in place for extremely tight conditions in the rental market over the months of January and February 2023 for most capital cities.
Sydney, Melbourne, Brisbane, Canberra, and Darwin vacancy rates rose from 1.4%, 1.5%, 0.8%,1.4%, and 1.2% to 1.8%, 1.7%, 1.1%, 1.9%, and 1.5%. In the smaller capital cities, Perth, Adelaide, and Hobart, vacancy rates sat below 1.0% over December.
With 39,568 rental vacancies Australia-wide, an increase from the 31,924 rental vacancies recorded in November, the expectation from SQM Research is that these vacancies turn over quickly in January and February, where there is typically high demand and short supply.
Louis Christopher, Managing Director of SQM Research said, "The rise in residential property vacancies was to be expected given the annual exodus of students at the end of the year. This should quickly turn over in January and February in particular – normally a time when rental demand surges and there is short supply."

Rental values
Over the past 30 days to 16 January 2023, national weekly asking rents have steadily increased. Capital city asking rents rose by another 1.1% to a 12-month rise of 24.2%, and national rents across all regions, although down by -0.2% for the previous 30 days, rose by 18.2% for the same 12-month period.
On 28 January 2023, the national median weekly asking rent for a dwelling was recorded at $629 a week for houses and $479 a week for units. Capital cities increased to $718 a week for houses and $536 a week for units. Hobart recorded the largest variance with a combined decrease of -7.04%.
Louis Christopher commented, "At this stage asking rents are still surging ahead. We are just not seeing any relief on rents present. However, I remain hopeful later in 2023 we will see some type of stabilisation in the rental market once we see higher completion rates and a slowdown in housing formation." (16 January 2023).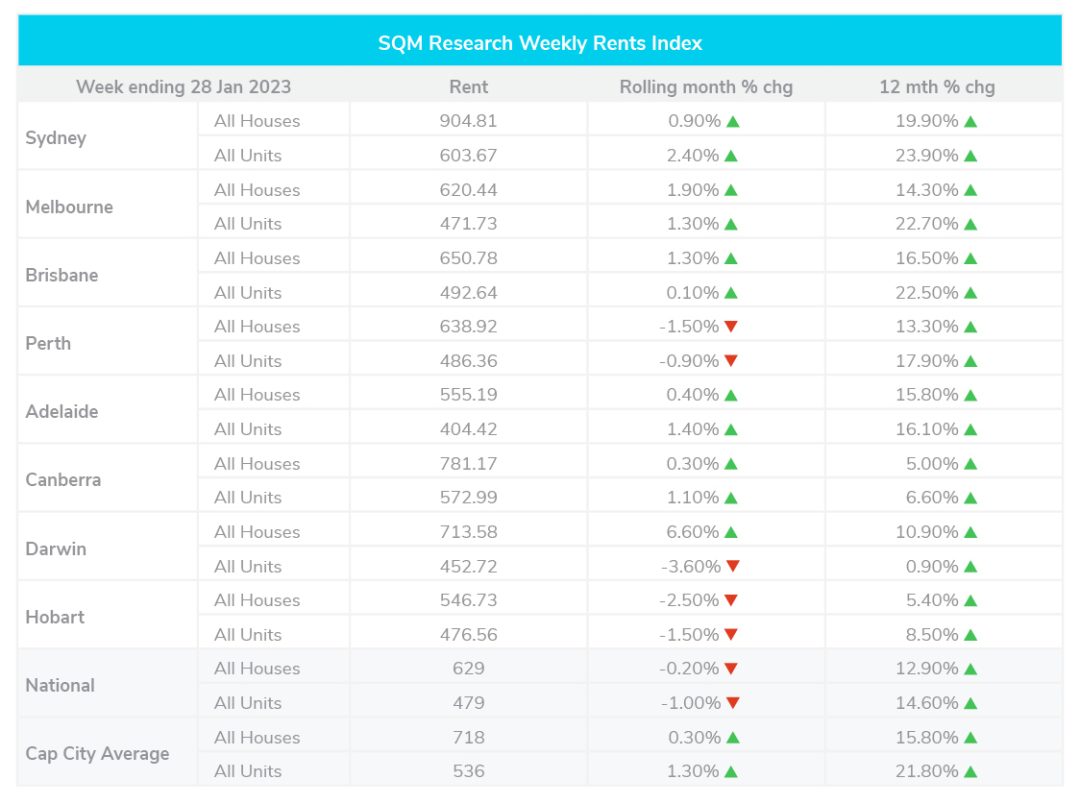 Property asking prices
National asking prices decreased by 0.4% for houses and increased by 1.7% for units across the last 30 days. Similarly, capital city houses experienced a decrease of 1.4% and a decrease of 0.3% for units.
Adelaide saw the greatest combined increase by 2.7% for houses and 1.9% for units, while Hobart experienced a -0.6% decrease for houses and a 4.2% increase for units.
Compared to the same time last year, national property prices have increased by 7.1% for houses and 11.2% for units. The capital city average increased by 2.1% for houses and 4.7% for units.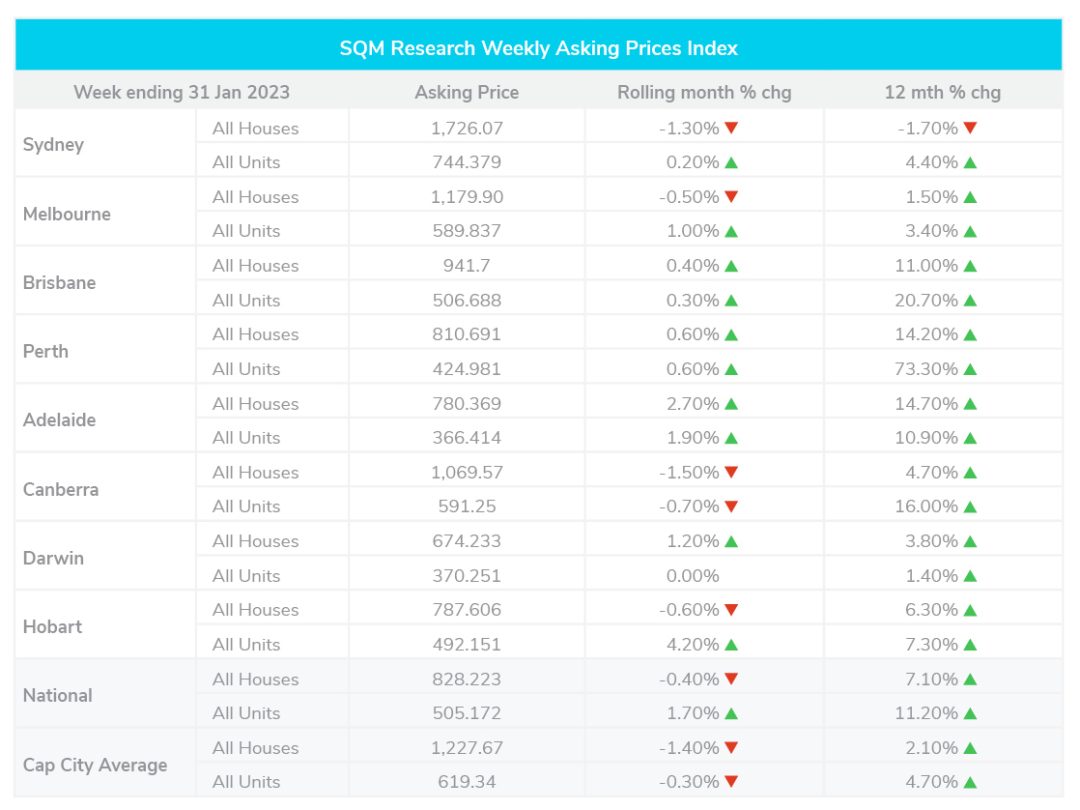 Cash rate
The RBA did not adjust the interest rate in January, the target cash rate remains at 3.10%.
Disclaimer: the information enclosed has been sourced from SQM Research and Reserve Bank of Australia, and is provided for general information only. It should not be taken as constituting professional advice.
PropertyMe is not a financial adviser. You should consider seeking independent legal, financial, taxation, or other advice to check how the information relates to your unique circumstances.
We link to external sites for your convenience. We are selective about which external sites we link to, but we do not endorse external sites. When following links to other websites, we encourage you to examine the copyright, privacy, and disclaimer notices on those websites.