Over February, housing values grew at their fastest rate in 17 years spurred by many factors including record low mortgage rates and improving economic conditions. Housing rental values increased while unit values decreased marginally and there are now less vacancies than January 2020.
Property prices
National housing prices grew at their fastest rate in 17 years over February. According to CoreLogic, the increase is spurred on by a number of factors including record low mortgage rates, improving economic conditions, government incentives and low supply levels.
According to CoreLogic's research director, Tim Lawless, "The last time we saw a sustained period where every capital city and rest of state region was rising in value was mid-2009 through to early 2010, as post-GFC stimulus fueled buyer demand."

Domain's senior research analyst Nicola Powell says that it's a challenging market for buyers, "The only winners out of a rising market like this are those who are downsizing and are tapping out of a real estate market. While low stock levels were making it difficult to find a home, the strong results would encourage more sellers to eventually list their homes. This will help alleviate the heated conditions in certain areas. Until we see new listings we will continue to see strong levels of price growth in coming months."
Further property price breakdowns can be found here.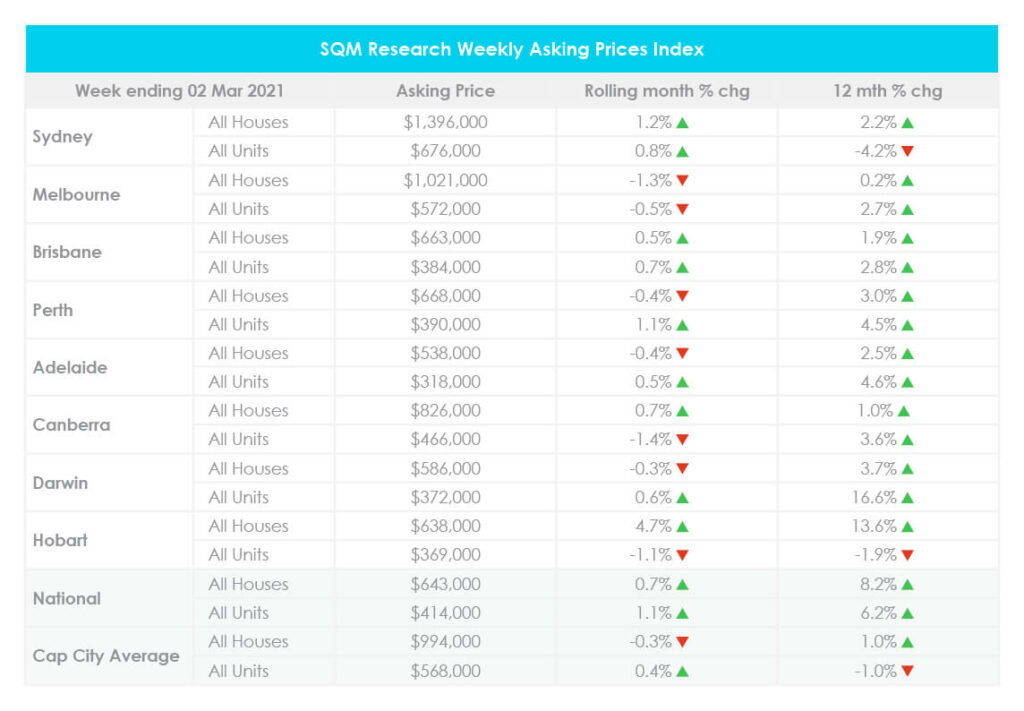 Rental values
National rental values increased marginally for houses (1%) and decreased marginally for units (-0.5%). Compared to the same period in 2020, rental values for houses increased by 11% and 4% for units nationally. YoY, in capital cities rents decreased by 2.5% for houses and decreased by 6.6% for units.
Further rental value breakdowns can be found here.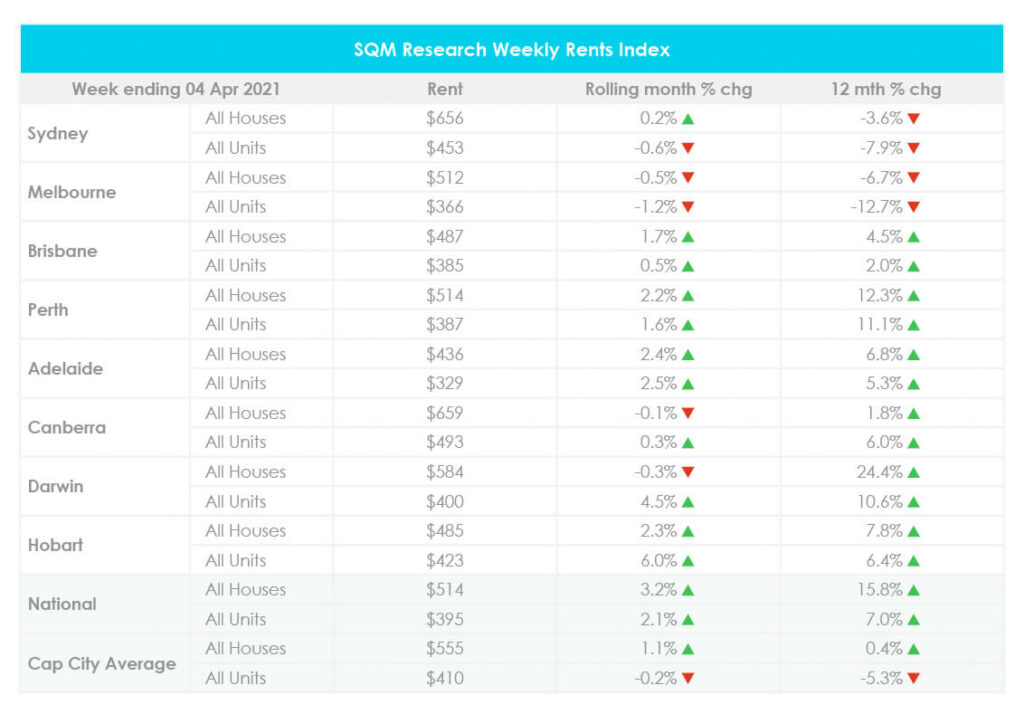 Vacancy rates
The national residential vacancy rate has decreased by 0.2% over January, down to 2%. All capital cities recorded falls in vacancies with the exception of Hobart. Whilst this is normal due to seasonally high rates for December each year, there are now less vacancies than January 2020.
There were particularly sharp falls in vacancy rates in the CBD rental market where vacancy rates fell to 6.2% from a recent peak of 16% in May 2020.

Cash rate and predictions
At the second RBA board meeting of 2021, the RBA kept the cash rate unchanged at 0.1%. The board has signalled that it will continue to keep the cash rate at 0.1% until 2024 at the earliest.
Changes to JobSeeker
The JobSeeker coronavirus supplement is set to finish at the end of March. Analysis by CoreLogic suggests that these changes would likely have little direct impact on housing market values. The JobSeeker supplement has been reduced significantly in recent months and we have not seen a dampening impact on the overall housing markets as a result.
Lower income households generally have lower rates of home ownership and are more likely to be renters, however rental values are also not likely to be impacted significantly. Data on regions with a high proportion of JobSeeker recipients suggests that rental outcomes have been mixed since the significant reduction of the JobSeeker supplement in September.