To stay relevant in a competitive market, property managers must increasingly lean on technology. But while each individual solution is designed to make your life easier, too many solutions can create a new problem—managing and connecting up a messy web of software.
"SyncEzy is saving at least one and a half days of admin work, and two full days of data entry."
"Discrepancies during the manual data entry process have been completely removed."
Today we'll be turning the PropertyMe Integrator Spotlight on SyncEzy. Committed to cleaning up the messy pile-on of technology that modern property management organisations are asked to deal with, SyncEzy has proven a game-changer for many in the industry.
What is SyncEzy?
SyncEzy is a global integrations company founded with the aim of helping SMEs to automate and integrate. Unlike most other integration platforms, SyncEzy has decided to focus on what it calls 'deep integrations'.
Instead of focusing on width—the amount of applications and integrations they offer, SyncEzy instead focuses on depth—how comprehensive, meaningful and valuable those integrations are. They aim to enable a select group of solutions to integrate absolutely seamlessly with one another, trading data accurately and instantaneously no matter what format it might be supplied in.
Think about the different types of information that must be moved from one of your internal systems to another; the layer upon layer, table upon table of data relating to categories like customers, suppliers, contacts, invoices, jobs, timesheets, quotes and more. Think about the wealth of fields and data subsets that make up each of these categories.
While many in the industry leave this job to receptionists, admin assistants and data-entry clerks, integrations can do it far faster, cheaper and more accurately than any human can. Integrations are often the cheapest employee you can hire—a small initial investment in SyncEzy technology almost always results in a huge return later on.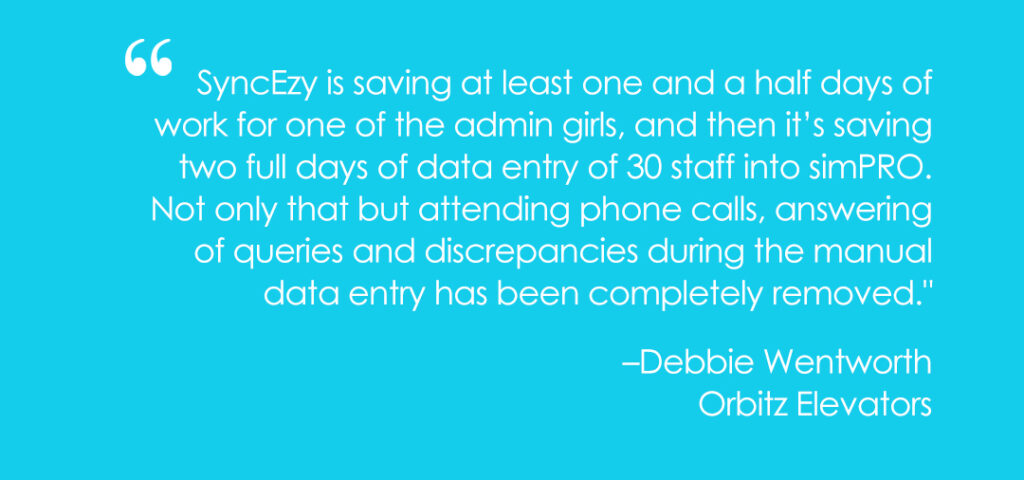 How does SyncEzy work with PropertyMe?
A prime example of SyncEzy at work is in the integration of simPRO, a powerful job management software for trade businesses, with PropertyMe, Australia's leading cloud property management software.
In this case, SyncEzy enables an automatic sync of tenant and property data from PropertyMe to simPRO. The integration entirely eliminates double-entry of data and also significantly reduces the initial entry of data, by automatically pushing property and tenant details to simPRO.
SyncEzy Director Hari Iyer said, "This allows your trades suppliers like plumbers, technicians, fire safety companies, smoke alarm inspectors to have an automatically updated database of your property locations and the relevant tenant contacts for each site."
"This completely eliminates the back and forth of admin time involved in coordinating contact and location details because simPRO has the latest data automatically pushed from PropertyMe."
Activating this integration couldn't be easier. Provided your trade supplier has a simPRO Enterprise Account, and your PropertyMe credentials, all you need to do is visit the SyncEzy site, search for the simPRO and PropertyMe integration, 'Subscribe' and follow the prompts!
For those who prefer to see this in action, here's a video of the process:
What does the future of SyncEzy look like?
When we asked Hari Iyer, Director at SyncEzy whether there were any particularly exciting products or developments on the horizon, his response was unequivocal.
"Absolutely! We currently sync PropertyMe to simPRO but that's only a start. We are planning integrations with many other types of job and project management software platforms, email marketing solutions, CRM systems and more!" he exclaimed.
The team at SyncEzy were excited to work with the PropertyMe API and are looking to launch more integrations in the coming months.
"In the next month we're launching two more integrations on PropertyMe. This includes PropertyMe to PowerBI and SQL which will allow for advanced reporting, data analytics and data visualisation via dashboards. Additionally, the PropertyMe to Mailchimp integration will allow for segmented email marketing from Mailchimp based on PropertyMe tenant/owner and contact databases."
As streamlined technology and integrated ecosystems become more important to property management professionals, it makes sense that SyncEzy will have more features to help agencies make sense of it all.
If the simPRO and PropertyMe integration is anything to go by, the real estate industry can trust the SyncEzy team to deliver.
Thanks for reading this month's PropertyMe Integrator Spotlight on SyncEzy. You might also be interested in:
Let us know your thoughts on PropertyMe Integrator Spotlight: SyncEzy by emailing [email protected].