"We no longer require an after hours emergency mobile number."
"We noticed a drop in the amount of calls we are getting from existing tenants."
"We have used Alex as a point of differentiation for prospective landlords. They love how Alex supports detailed issue triage and tenant self-help options."
Rental Heroes is the newest connected app to join the comprehensive PropertyMe integration ecosystem. Their AI-powered chatbot 'Alex' has been making waves in the real estate industry by removing communication bottlenecks by allowing tenants to self-serve.
Let's dive into this month's PropertyMe Integrator Spotlight on Rental Heroes:
What is Rental Heroes?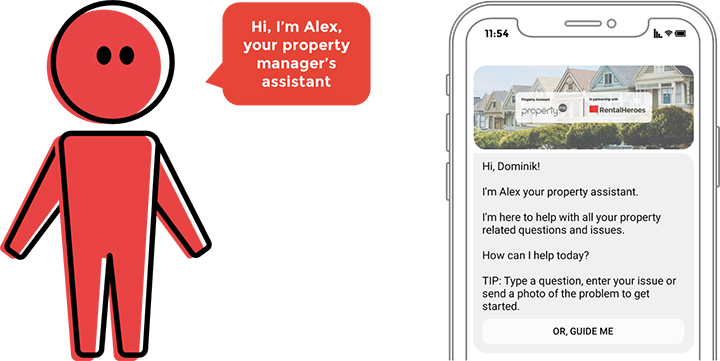 Prior to building their AI-powered chatbot Alex in early 2019, the co-founders of Rental Heroes, Ben Burton and Dom Chmielewski, conducted market research and discovered a gap in the market. They found that:
Property managers manage between 150 to 180 properties on average and often feel overworked
Tenants want transparency around maintenance issues and timelines
Landlords want to know they're getting the best deal possible
Thus, Rental Heroes was born out of a necessity to mitigate transactional 'busy work' and reduce the burden of communication on property managers.
By automating the coordination of tenant requests using Alex, property managers decrease the number of manual interactions required while adding value to their service offering. This effectively removes communication bottlenecks and streamlines the rental process and experience for all parties involved.
Rental Heroes co-founder Ben Burton said, "Our mission is to create brilliant rental experiences. Tenants interact with our AI-powered chatbot via existing channels like Facebook Messenger, SMS and email using natural language and a handy visual guided menu. There are no apps to download and no need to log into a separate system, which drives user adoption."
"Alex is like having your own digital property assistant and we integrate with property management systems like PropertyMe, meaning there is no manual data entry required and no new workflows to learn."
Tenants are able to ask Alex for help by saying things like:
"My hot water system is not working."
"I've been locked out."
"I need a tradie after hours."
"How much is my rent and when is it due?"
"81% of our users are rating their experience as 'better' than alternative communication channels. Plus, our property management customers are finding that 62% of all tenant requests are being raised via Alex, which is reducing email and phone traffic."
How does Rental Heroes work with PropertyMe?
Rental Heroes integrates seamlessly with PropertyMe, enabling property managers to enjoy the tenant self-serve automation benefits that Alex delivers, without changing the way they manage properties within PropertyMe.
After the integration is switched on, Alex can answer tenant and landlord questions based on information made available in PropertyMe by the property manager. These might include rental questions on the amount required, due dates, paid to dates and arrears, when the next inspection is and what the lease end date is.
If escalation to a property manager is required, Alex will log a job in PropertyMe against the respective property. This will appear in both the Activity Feed and Jobs screen.
"Once a job appears within PropertyMe, we have found that the subsequent manual interactions that a property manager needs to undertake is reduced by 57%."

Moreover, Alex supports messaging communications from the landlord or tenant to the property manager. These messages seamlessly appear in the Activity Feed in PropertyMe.
What does the future of Rental Heroes look like?
From here on out, Rental Heroes will be focusing their efforts on continuously making Alex smarter with more features and enriched data. For example, Alex will have the ability to answer questions around state-based regulation changes and provide reliable information related to the COVID-19 pandemic, just to name a few.
"Our product roadmap includes new channels such as WhatsApp, WeChat, Google Home and Amazon Alexa, appointment setting for tradespeople and tenants, landlord and tenant services, integrations and strata management."
"We envision a connected future where Alex will be available in more channels, with more features than ever before, including the ability to triage strata issues and route them directly to the building or strata manager."
Thanks for reading this month's PropertyMe Integrator Spotlight on Rental Heroes.
Have questions about PropertyMe Integrator Spotlight: Rental Heroes? Please email [email protected] to let us know.