April provided a well earned break from the busy year we've already experienced. With three short work weeks (or four if you're one of the lucky ones who live in Queensland), we were all able to get a bit of much needed R&R. However, April was still a busy month for us here at PropertyMe as we celebrated our 5,000th subscriber milestone and our highly requested April feature release.
The past month provided us with many moments of gratitude as we got to see the team in person again for the 5,000th subscriber party. As well as the feelings of closeness and joy that the Easter long weekend brought, compounded by the thankfulness we felt on ANZAC Day. It's safe to say that April brought the reset we all needed, to allow us to continue working hard for the rest of the year.
5,000th subscriber party
On the 8th of April we had the pleasure of heading to Luna Park for our 5,000th subscriber party. Backdropped by such a picturesque location compounded with seeing the team again made it hard to not have a good time. The night began by understanding how far we've come as well as outlining our plans for the future, allowing the team to get re-energised and focus on the milestones ahead. We were then able to let our hair down and indulge in some childlike fun as we hit the endless rides at Luna Park. Our personal favourite was the Hair Raiser which produced a lot more screams than we care to admit!
All in all the night was a smashing success, and we left feeling proud of our efforts as a team and thankful for the wonderful community we have that are constantly allowing us to innovate and grow. Without you we wouldn't be where we are today.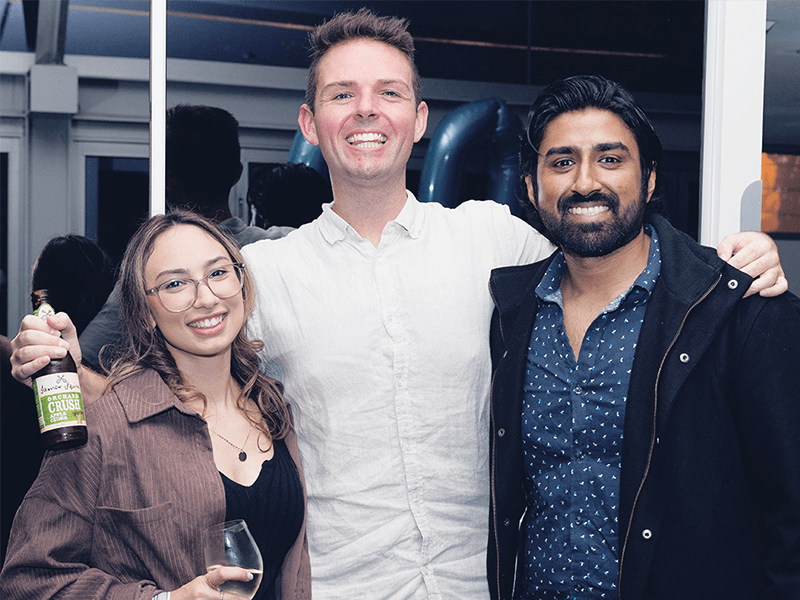 April feature release
We were so excited for our feature release this month as it was jam packed with some of your highest requested features including tenant invoice alerts and periodic tenancies. Tenant invoice alerts allow you to display contact alerts when creating an invoice. If you need to be alerted about something for a specific contact at the time of entering in a tenant invoice, all you need to do is create an alert for that contact and choose for it to 'show on invoice'.
Periodic tenancies allow you to mark a tenant as a 'periodic tenant' for holiday and short term rentals. Additionally, the Renewals tab can now be filtered to include or exclude periodic tenancies. Lastly, we've also included the ability to edit file names for uploaded documents. For more information on our April feature release click here.
April release Lunch & Learn
In typical PropertyMe fashion we held a Lunch & Learn to delve into our new April feature release. With Christina and Peter steering the ship, we discussed our new features in detail and answered some of your viewer questions. Recently, we've moved back to holding the livestreams in the studio, allowing the team to get together in person. We thank you for the continued support as we now bring the Lunch & Learns to YouTube as well as Facebook. If you missed out, click here to catch up, and don't forget to follow us on Facebook so you don't miss out in the future!
Spreading the Easter joy
With April comes Easter, and we couldn't have been more overjoyed for both the chance to eat exorbitant amounts of chocolate, as well as for the long weekend. The team took the time to be with loved ones, and relax. Some team members used the weekend to binge their favourite TV shows or head on a much needed holiday! However you chose to spend the Easter long weekend, we hope you had a great time and spent it with the ones you love.
ANZAC Day, lest we forget
Toward the back end of April we were met by ANZAC Day, one of the few days of the year where we're faced with the harsh realities of war, whilst also being thankful for the sacrifices made by so many Australians. Whether you're personally touched by the spirit of the ANZAC or not, we can all agree that it's a day to put things into perspective and be thankful for the simple pleasures we often take for granted. If you have someone in the service we urge you to reach out and thank them for all that they've done.
Thank you for taking the time to read about April at PropertyMe, we look forward to sharing new updates with you again next month!
Let us know your thoughts on our peek into the month of March at PropertyMe by emailing [email protected].