To prospect, is a process of initiating and trying to nurture new business by searching for potential customers, clients, or buyers for your products or services. Essentially, you want to move these prospects through the funnel to convert them into eventually generating revenue for your company.
This guide was created to help you optimize your prospecting process and plus significantly improve your response and connect rates. Without further ado, let's get into our ultimate guide to prospecting!
Research
This is the initial stage of the process where you take the time to find new prospects. Essentially at this point, your goal is to determine if the prospect is workable, qualify and prioritise prospects and find the opportunities to develop a connection with these prospects.
Connect and nurture
This is the stage where you begin to form a relationship with your prospect. The goal at this stage is to start to understand their needs and wants and to align them to your product or service and show them how your offering is the solution to their problems.
Be sure to keep notes throughout the process of connecting with your prospect. This helps you keep track of their specific circumstances which will in turn allow you to communicate the benefits and value propositions which are relevant to that specific customer.
Educate
By this point, you will have identified the key pain points and areas of help that your prospect requires. Use this time to specifically target those areas of concern. Identifying and properly educating your prospect will provide value to them, and inevitably move them forward in the sales cycle.
Close
At this stage your prospect has confirmed their interest and intent to use your product or service and you turn your opportunities into customers.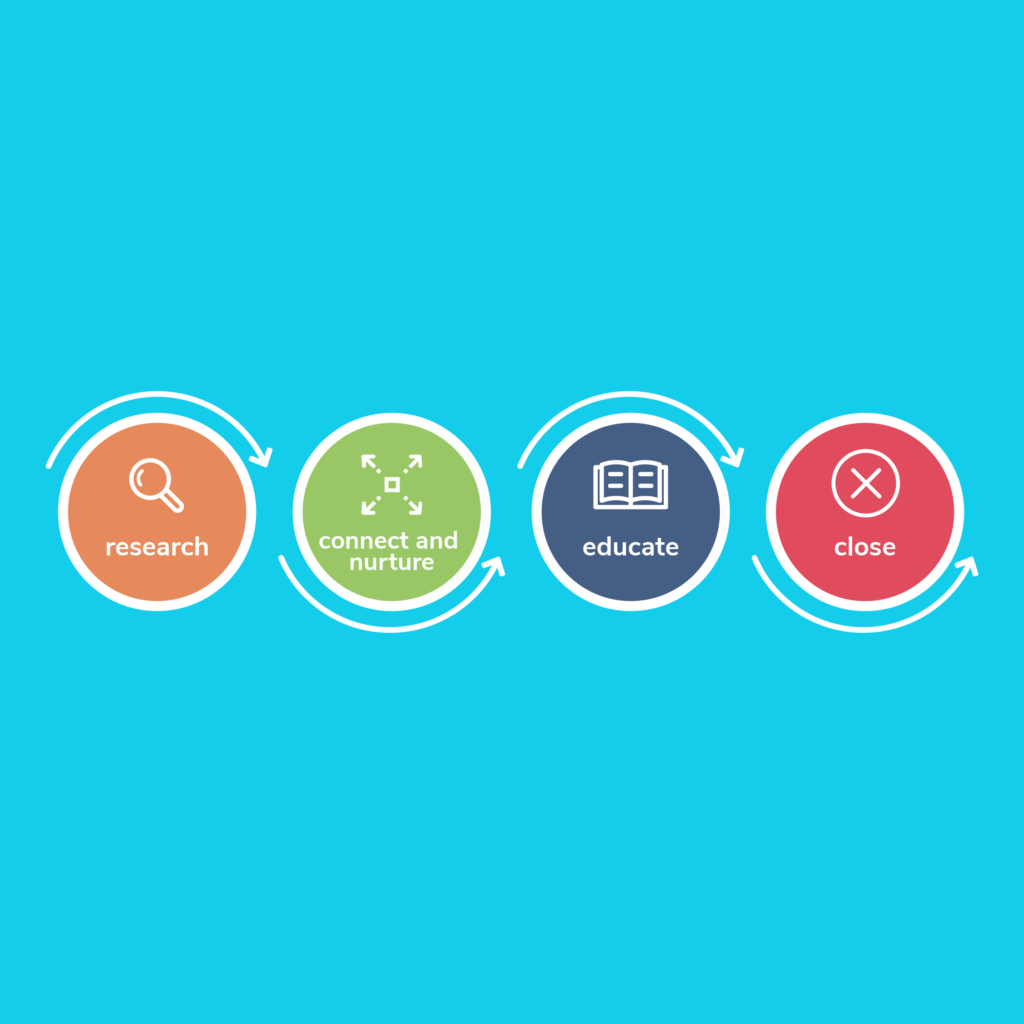 Sales prospecting techniques
Explore a relationship with a prospect by sending a warm email as a first touchpoint. This should be someone who has already expressed familiarity with your product or service. Outdated processes such as cold calling are less effective to sell a product or service.
Social media is also an incredible tool that allows you to explore a relationship with a potential lead. Reach out to potential prospects over social media if you can see them expressing frustration with their current provider.
If you have a company business page, you can share useful and insightful content which will answer any questions your prospects may have. It will also introduce them to further useful content. If you have a company newsletter or email that you routinely send, consider adding your prospects to this list also, so that they can stay in tune with what is happening in your business.
By staying active on these touchpoints, you'll be able to connect with new and existing prospects on a variety of platforms, helping build your relationship with them further.
Prospect marketing assists the nurturing of prospects by bringing them further into your sales funnel and keeping them engaged with your brand.
Prospecting can seem like an overwhelming or uncomfortable process, but it doesn't have to be. The process can be positive for both you and your potential customers. Adopting a few of these strategies and experimenting with your own techniques will help you determine what works best for yourself and your team.
Thanks for reading this blog on the ultimate guide to prospecting! You might also be interested in:
Let us know your thoughts on the ultimate guide to prospecting by emailing [email protected].