You've probably heard of the term "workplace burnout."
Perhaps it's considered a 'dirty word' in your office to be avoided around management, or maybe you're in the midst of burning out and don't even realise it.
Regardless of whether you love your job, or are a high-performing employee, preventing burnout is important for anyone with a job. This is especially true for Property Managers and those in the real estate game, as you're in the business of going above and beyond for your clients – often at the expense of your own health.
Whether you're skipping lunch breaks, attending inspections outside of office hours or taking your work home with you, these kinds of work habits could lead to stress and burnout.
You're not alone.
More than 75% of Australian and NZ workers experienced burnout in 2020 during the peak of the COVID-19 pandemic. That is three in four employees. Let that sink in.
The truth about burnout
You might be reading this thinking that burnout couldn't happen to you because you love your job and you're on fire at work.
However, the truth is that workplace burnout doesn't happen to the disengaged. The employees who are most at risk are the energised, high performers – the workplace rock stars who smash their KPIs, win properties left, right and centre and make it rain 5-star tenant ratings.
Whether you're the workplace rock star, or it's someone else at your property management agency, it's important to know the signs of burnout. Otherwise, your fire could go out as fast as it started and you're forced to throw in the towel at work.
What is burnout & how to tell the signs?
According to the World Health Organization (WHO), burnout is an "occupational phenomenon" that results from chronic workplace stress that has not been successfully managed.
It is often characterized by the following symptoms:
Feelings of energy depletion or exhaustion
Increased mental distance from one's job, or feelings of negativism or cynicism toward one's job
Reduced professional efficacy
So, just how do you avoid burning out at work – with the endless client calls, disgruntled tenants and broken heaters to fix?
We've compiled a list of the top five ways for Property Managers to prevent burnout so you can keep kicking goals at work while maintaining a healthy work-life balance.
Top 5 tips for preventing burnout for Property Managers
1. Ask for help
Whether you're at your wit's end with a client, or unable to cope with the mountain of work, asking for help from your employer or manager is important. This can be in the form of a one-off meeting or scheduling a weekly "check-in", so you can work together to suggest some solutions to your problems and make it work better for you.
2. Prioritise & delegate
Put in some time at the start of every workday to plan out your work. Always prioritise the highest performance-driving tasks first using the 80/20 rule (i.e. 80% of results will come from 20% of the action) and then delegate what you can to others. This will not only allow you to focus on the most important tasks at hand, but it will help you to empower more junior employees who you entrust with work.
3. Maintain work-life balance
It's essential for your own mental health that you set clear boundaries when it comes to your work. Be it screening client calls on weekends, prioritising time with family after hours, or turning your 'out of office' on when you're on holidays, maintaining a work-life balance will prevent you from burning out and will stop you from feeling like you live to work.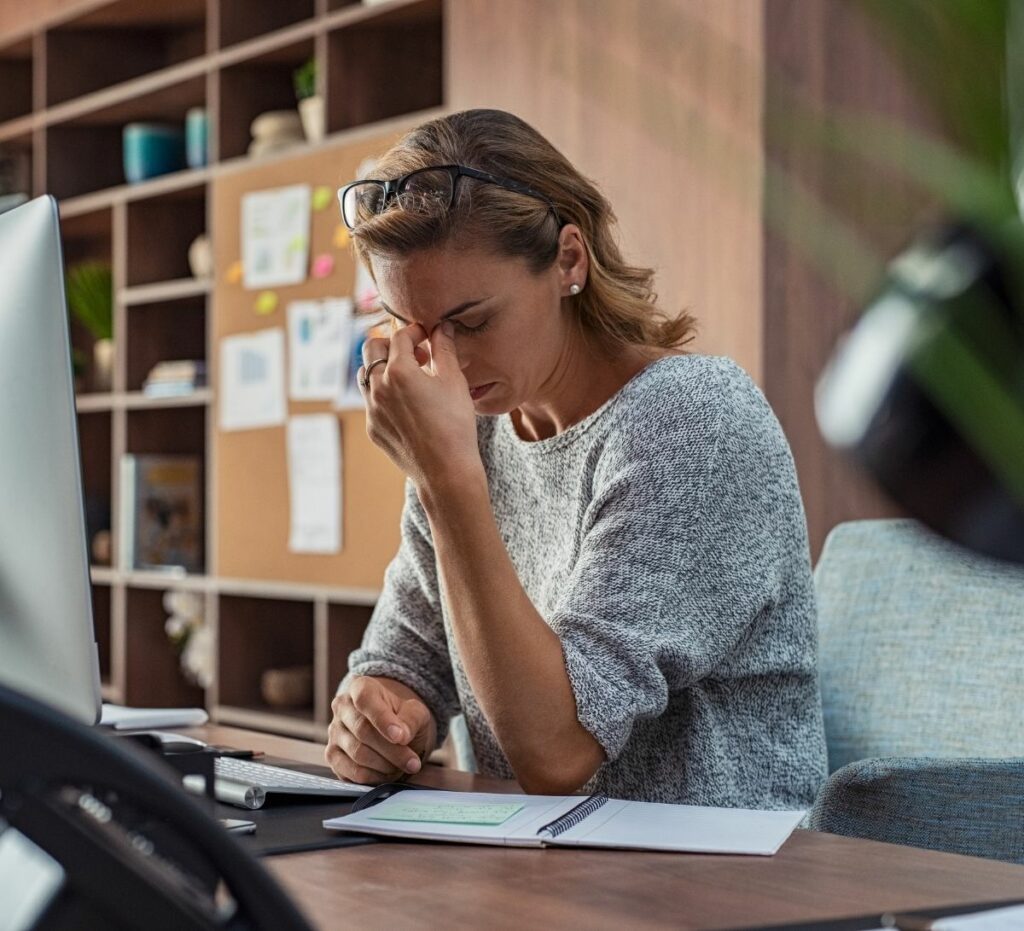 4. Say 'no'
This little piece of advice applies to all aspects of your life, not just work. If you're feeling overwhelmed with work and already have too much on your plate, then don't be afraid to say 'no' to people. By saying 'no' to people – whether it's to your colleagues, clients or even your boss – you can manage expectations and avoid overworking yourself.
5. Block out time
Whether you hang a "do not disturb" sign from your office door, or put your phone on aeroplane mode, make sure you block out some time to get through your important work. It can be difficult for Property Managers who are rushing to and from property viewings or dealing with a phone that won't stop ringing, but it's important that you block out time to actually get your high-priority work done without any distractions. Otherwise, you may feel as though you're drowning under a to-do list that won't stop growing.
Life's too short to not enjoy work – especially because you spend one-third of your life working, so make sure you apply some of these top ways to avoid workplace burnout to your daily life and make your working experience a positive one. You'll thank yourself later.
You've made it this far. You might also be interested in Why Property Managers Leave, 12 Ways to Attract Quality Tenants, How to Grow as a Property Manager in 2021 and The Ultimate Guide to the EOFY for Property Managers.