The job of a property manager is a challenging, high pressure role. In your day to day work, it can be easy to have tunnel vision and not give growth in your role much thought. However, taking some time to focus on growth is a key element to success in any role, particularly in the highly competitive property management industry. In order to set yourself apart from other property managers in your field, continue to learn how to grow as a property manager.
Personal brand and online presence
There are 7.7 billion people in the world and 3.5 billion are online users. Making an online personal brand one of the most powerful tools a property manager can have under their belt. This can seem overwhelming, but is actually fairly simple. Do a quick Google of your name and scan what the search reveals. If there isn't much that shows up in the results, begin building an online presence.
You can do this by joining platforms such as Facebook and LinkedIn, which will allow you to showcase your experience and testimonials to your work and make you appear more trustworthy and credible. From here, you can become a local go-to in terms of property management. Take note of the most commonly asked questions that you see from your clients over a week or so. Group them into categories and jump in front of a camera and answer those questions. This can be posted to a professional Facebook page, Linkedin, your company website or even Youtube.
Local knowledge
Set alerts from real estate portals like realestate.com as though you are a tenant looking for a property in a specific area and price range. This way, you'll be the first to know what's listed in the market. You can also sign up for newsletters from local businesses and councils.
Alternate options are joining community groups on Facebook and liking relevant Facebook pages which provide news for your service areas. Knowing what is available and happening in your service areas will set you apart from competitors.
Industry knowledge
The key to being the best property manager is to keep updated on rules and regulations, local rent rates and becoming a source of knowledge in the industry. Your clients are hiring you to relieve stress and understand the laws and regulations. Having extensive knowledge about laws and regulations will ensure you avoid any legal discrepancies that may arise over the term of a lease, to the best of your ability.
Keep your finger on the pulse by attending webinars and real estate conferences. Participating in events such as this can on some occasions even give you CPD points. Plus the added benefits of equipping you with real estate knowledge and insight, inspire you to become your best self and connect you with like-minded professionals in the industry.
Communicate and understand your clients
As a property manager, you spend the majority of your day communicating between parties. Making it a career best suited to people who enjoy meeting and building relationships with new people.
A good property manager should have excellent communication skills, namely listening skills. As you are regularly dealing with rental property owners, property management clients, tenants, or Airbnb guests, as well as cleaning and maintenance staff, there are a lot of people in your day who are wanting to be heard correctly. A great tip on listening when communicating is to use simple, straightforward language wherever possible.
Manage your portfolio in a cloud-based software
Moving over to cloud-based software saves a lot of time for you as a property manager. Simple things that would usually take up a few minutes of your time such as going over to the filing cabinet to pull out a file is not needed as everything you need is right in front of you.
Other amazing benefits include accessing your data anywhere, seamless integration between devices, automated communication, advanced security, and no longer having to worry about lengthy backups. All of these things contribute to taking back time in your day, to investing in your client base.
To summarise, here are the key ways to transform as a property manager.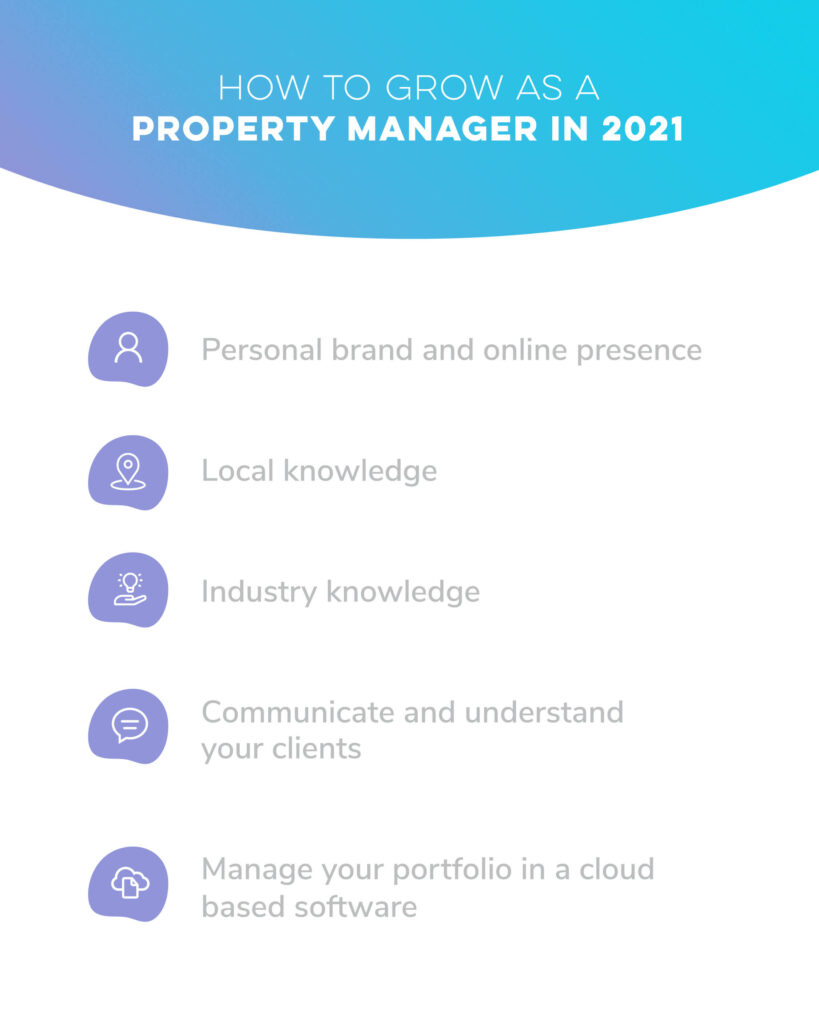 Thanks for reading this blog on key ways to transform as a property manager! You might also be interested in:
Let us know your thoughts on key ways to transform as a property manager by emailing [email protected].