Whether you're in property management or another industry entirely, interviewing is one of the most important skills for any working professional.
While no two job interviews are exactly the same, there are some questions you can almost guarantee will be asked by employers who are screening candidates.
By taking the time to prepare confident answers to some of the more commonly-asked interview questions, you can get a leg up on the competition and ensure you make a lasting impression, so you can secure the job of your dreams.
Studies show that more than 30% of hiring managers decide whether to hire a candidate within the first five minutes of a job interview, which is why it's imperative to make a good first impression when interviewing for a Property Manager role.
Even if you interview with one of the 70% of hiring managers who take more time to decide, it's still important to set the tone of the interview and build rapport within the first few minutes of the interview. After all, you may only have 30 minutes to show them what you've got to offer, so you want to make every second count.
How to make a good first impression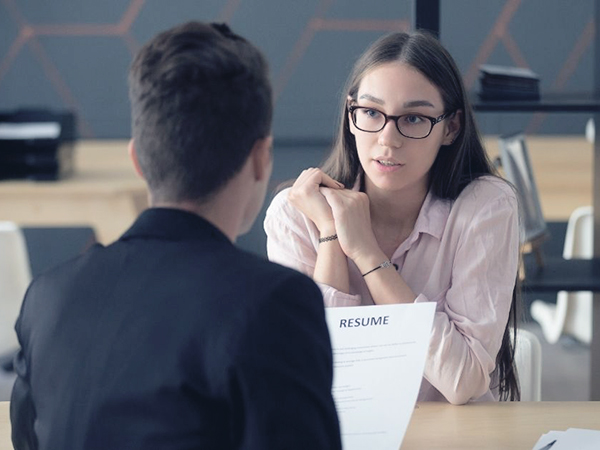 Making a good first impression in a job interview involves a combination of preparation, communication skills and courtesy.
For one, you should always try to arrive early to an interview if you can.
We don't mean arrive an hour before your interview, because that could be awkward for the hiring manager. However, arriving 10 minutes early to your interview demonstrates to potential employers that punctuality is something you value and will help to build trust that you will be on time for work each day.
Building rapport with the interviewer through casual conversation is an effective way to improve your chances of securing a job. Think about how you can engage the interviewer in conversation during the beginning or end of the interview. This will also show that you will be a good 'culture fit' for the team, which is cited as an essential consideration by 97% of hiring managers.
Whether you like it or not, appearance is the first thing you notice about someone – especially if you're hiring them. Make sure that you're dressed to impress in the right attire, such as a blouse and trousers or a suit for a more corporate office, and that your attire is clean. You would hate to give the best interview of your life only to realise you had a toothpaste stain on your shirt the entire time and the interviewer assumed you were lackadaisical because of it.
5 Interview Questions and Answers
1. "Tell me about yourself and your experience"
This is often the first question interviewers will ask you in a job interview and the most important. First impressions are everything, so think of this as an 'elevator pitch' for yourself and highlight your key achievements and employment history.
Remember, the hiring manager has already seen your CV, so you don't need to go into too much detail. If there is something specific in your CV they want to know, the interviewer will likely ask you to expand on it.
2. "Are you familiar with local building codes and laws of our state?"
Employers will ask Property Manager candidates this question to ensure that they understand the building codes and regulations of the state and local area. Hiring managers want to know that you will remain in compliance with the codes and laws while working to meet the needs of the property and tenants.
You should ensure that your answer showcases an up-to-date knowledge of state and local laws, experience complying with these laws and a willingness to stay current on industry laws and news. This will demonstrate diligence and dedication to potential employers, which will put you in good stead.
3. "Tell me about a time when you've had to deal with a disruptive tenant. What steps did you take to remedy the situation?"
Hiring managers ask you this question to gain insight into your behaviour, interpersonal skills and ability to resolve conflict, so make sure you put a positive spin on your answer, rather than placing blame or complaining.
Just assume that this question will be asked in one way or another, so be prepared with an answer that uses a specific example, discusses how you successfully overcame the challenge and what lessons you learned for the future.
4. "How would you communicate with the tenants regarding updates or emergencies?"
This question is asked to determine how well you work under pressure, or during an emergency. What interviewers are looking for here is that you can keep a level head while dealing with an emergency and understand your responsibility to the safety of your tenants.
Preparation is key when it comes to answering these types of questions, so keep in mind that your response should demonstrate positive leadership, the ability to work well in stressful situations, plan strategically, communicate effectively and efficiently.
5. "How did you come to find out about our company? Why do you want to work for us?"
This question is one of the most common interview questions and it's your chance to stand out from the rest of the candidates, as it shows that you are proactive and have done your due diligence on the company.
Before your interview, make sure you get acquainted with the company website, with a particular focus on the company vision, mission and core values. You want to be able to demonstrate that you understand their company vision and mission in your answer, as well as the culture. No one expects you to memorise the entire company history, but it does show initiative and a little will go a long way.
After the Interview
Most people neglect to do this, but after your interview, a final way to make a good first impression is to send a follow-up email to the interviewer.
In the follow-up email make sure to thank the hiring manager for their consideration and for giving their time, before reiterating your enthusiasm to hear back from them and why you would make a suitable candidate for the position.
No matter how many job interviews you attend, they are always sweaty-palm inducing. However, the good news is that the more preparation you do beforehand, the more you can improve your chances of securing your dream job in Property Management.
Did you find these Property Manager interview questions and tips helpful? Make sure to share them with your favourite Property Manager or your team!