Whilst at a national level vacancy rates held steady at 2% and both rental values and property prices continued to rise there were stark contrasts between regions with experts predicting that the year will favour tenants in the inner cities but will remain very much a landlord's market in regional Australia.
Vacancy rates
Whilst the national vacancy rate held steady at 2% over February and from a year ago, a deeper diver into individual regions tells a more turbulent story. In particular, Melbourne's vacancy rate rose by 0.1% to 4.5% over February, significantly higher than the 1.9% it recorded in February 2020 but down from a peak of 4.7% in December 2020. The Melbourne CBD vacancy rate now stands at 7.5%, which is down from a high of 9.4% in October. A large factor behind Melbourne's high vacancy rates is the withdrawal of international student tenants.
In Sydney the vacancy rate rose by 0.1% to 3.3% over February. The Sydney CBD vacancy rate dropped to 6.3% in February, down from a peak of 14.8% in May 2020 indicating a return to life for Sydney city. In all the other major cities the vacancy rate remained below 1% except for Brisbane which dropped by 0.2% over February.
Louis Christopher, Managing Director of SQM Research said, "The figures for Melbourne and Sydney would be disappointing for existing property investors. Normally, vacancy rates in these two cities fall over February, in part due to international students starting their semesters. But given the ongoing closure of the international border, the seasonal increase in rental demand has not occurred this year. This year will favour tenants in the inner cities but will also very much remain a landlord's market in regional Australia."

Rental values
Over March, National residential rental values increase by 3.2% for houses and 2.1% for units. This was led by Hobart which saw a 2.3% increase in rents for houses and a 6% increase in rents for units. This translates to a 7.8% year-on-year increase for houses and a 6.4% increase for units.
In more bad news for Melbourne, they saw the highest decrease in rental values over March with houses dropping by 0.5% and units dropping by 1.2%. Year on year Melbourne rental values are down 6.7% for houses and 12.7% for units from March 2020.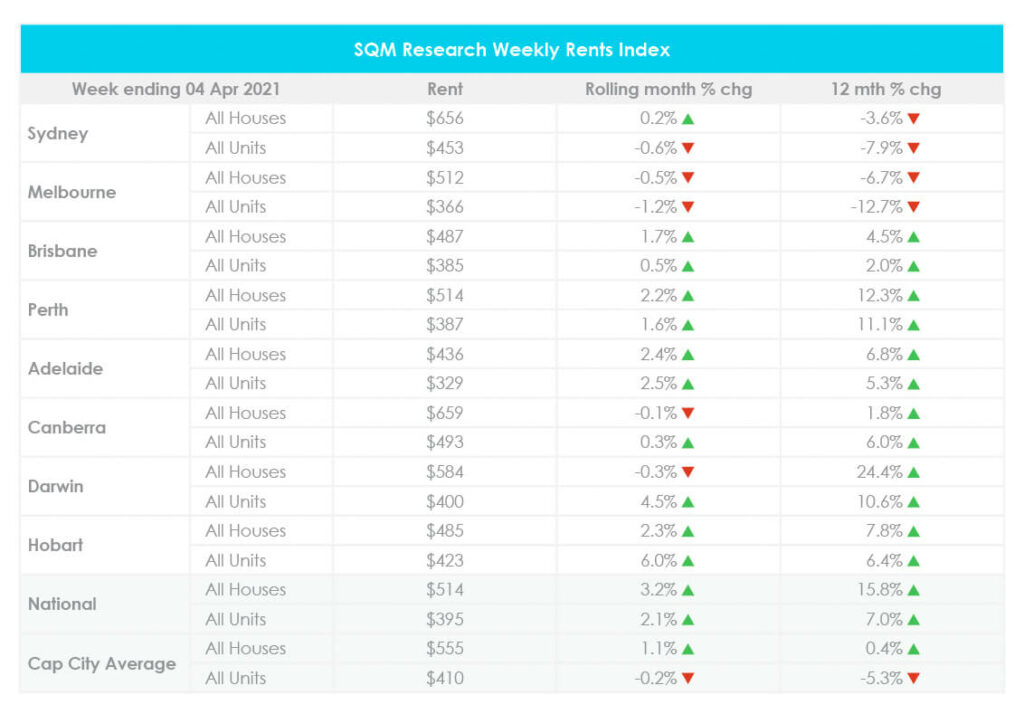 Rental value breakdowns by suburb can be found here.
Property prices
The number of new listings (less than 30 days) rose 9.9% over March with 84,030 properties added to the market. However, due to high absorption rates, the total number of listings slipped over the month by 0.5%. This contributed to an increase in national asking prices by 0.8% for houses and 0.6% for units.
Louis Christopher said, "The property market is strong, and we can expect to see ongoing price gains this year. While overall listings fell, absorption rates continued to increase, so we saw overall property listings fall slightly over March, as they did in February; demand for property is still outstripping supply.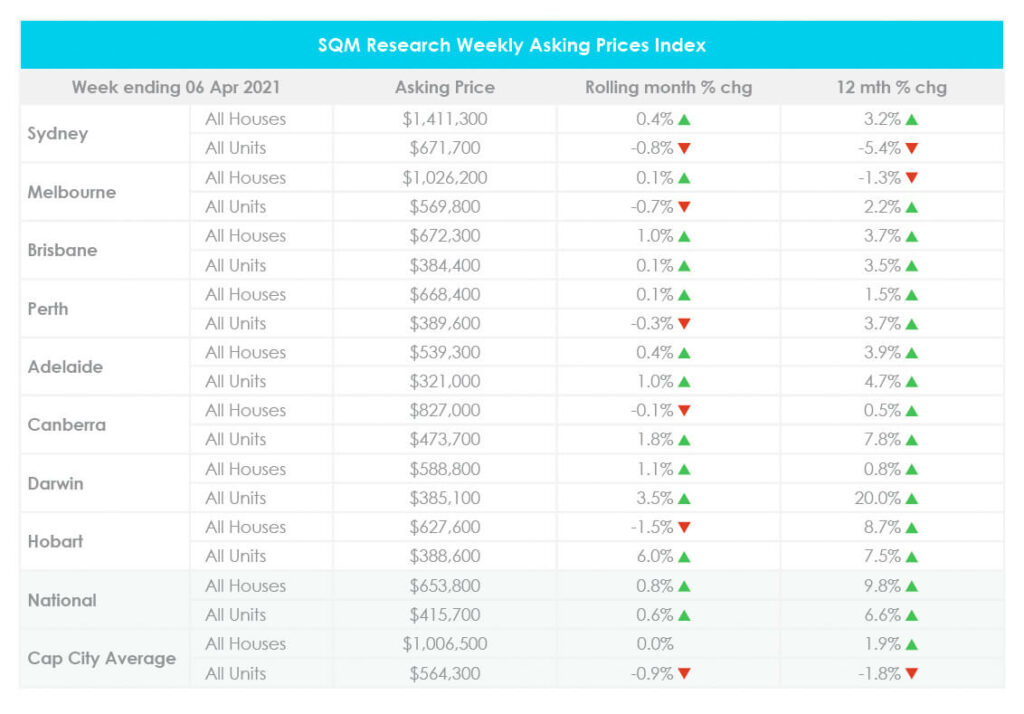 Property price breakdowns by suburb can be found here.
Cash rate and predictions
At its meeting on 6 April, the RBA kept the cash rate unchanged at 0.1%. The board has signaled that the cash rate is likely to remain on hold until 2024 at the earliest.