Over July, the national residential vacancy rate dropped even further. Accordingly, the ongoing reduction in vacancy rates continues to push rental prices up. This is particularly evident in regional Australia. This may impact the Consumer Price Index (CPI) in the upcoming quarters.
Vacancy rates
From May to June 2021, the national residential rental vacancy rate fell from 1.8% to 1.7%. This is the lowest national-level vacancy rate since May 2011. Melbourne fell from 3.7% to 3.5%, Sydney fell from 2.9% to 2.8%. While Hobart, Adelaide and Canberra remained below 1%. Sydney CBD fell to 5.6% and Melbourne CBD to 5.8%, moving closer to long term averages. Interestingly, COVID-19 seems to have had a positive effect on Darwin where vacancy rates remain lowered, boosting rental prices. The drop in vacancies in Australia's capital cities is leading to higher rents, which may impact CPI prints in the coming quarters.
Louis Christopher, Managing Director of SQM Research said, "Rents are now accelerating in our larger capital cities which may have ramifications for the CPI read in the coming quarters."

Rental values
Over the month to 4 August, the capital city asking rents saw a 1.1% increase for houses and 0.7% for units. Outside of capital cities, house rents have grown significantly over the past year, with Perth up by an incredible 13.4%, Canberra up by 15.60% and Brisbane up by 10.80%. Nationally, rents rose 15.30% for houses over the year and 8.40% for units. This increase has been propelled by the large growth in rents in regional locations which are seeing a shortage of rental accommodation.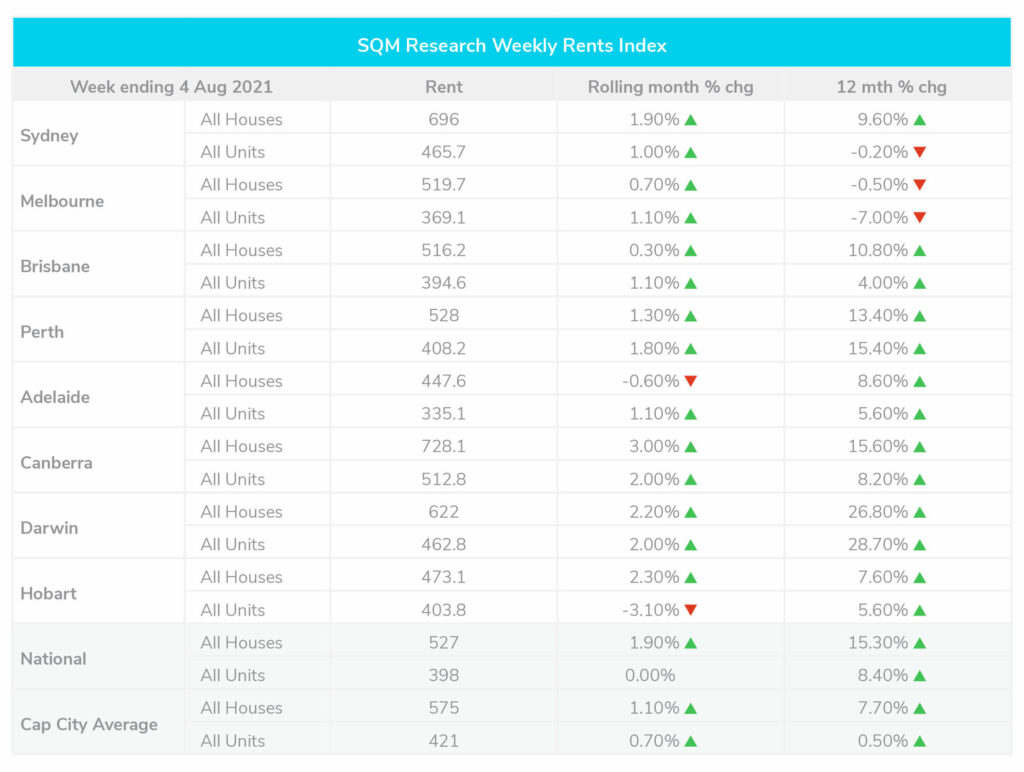 Property prices
Over July, Brisbane, Perth and Melbourne saw asking prices rise by 1.6%, 0.6% and 1.1%, with no change in unit asking prices. During this same period, Sydney asking prices fell by 0.7% for houses and 0.2% for units. In Canberra, Darwin and Hobart asking prices for houses rose by 1.2%, 0.9% and 0.6%, and 0.9%, 0.7% and 3.2% for units. Over July, Australian residential listings rose by 1.1%, from 236,218 in June to 238,834 in July. However, compared to the previous year, listings dropped by 23.6%. New listings (less than 30 days) fell by 1.2% over July nationwide. In comparison to 12 months ago, new listings have grown by 5.4%. The highest drop in new listings was seen in Sydney, at 19.7%, followed by Adelaide. Conversely, Melbourne saw listings grow by 3.9% over July caused by a late surge in new listings.
Louis Christopher, highlighted, "Total listings over July were predominantly impacted by lockdowns, particularly for Sydney whereby there was a 19.7% decline in new listings… Going forward we are cautious for the market given the likely economic damage as a result of these latest city-wide closures. That said, recently announced Government support packages will likely assist the housing market into the spring of 2021."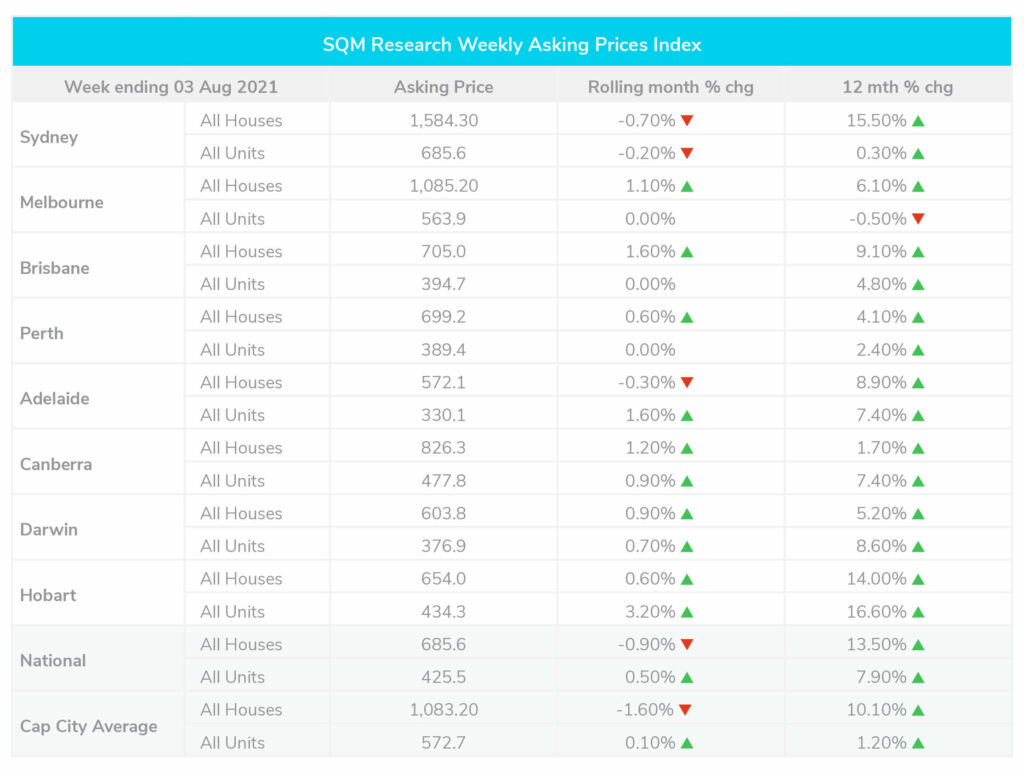 Cash rate and predictions
The cash rate was held unchanged at 0.1%. The board has signalled that the cash rate is likely to remain on hold until 2024 at the earliest.