The latest research reveals that distressed listings continued to increase across Australia. Additionally, vacancy rates have remained steady over the past month, with experts indicating that the rental market remains in favour of landlords.
Vacancy rate
The most recently available vacancy rate data reveals a significant drop in vacancies over the past year. Between June 2021 and June 2022, vacancy rates across Australia have dropped from 1.7% to 1.0%. Additionally, over the previous month, between May and June, vacancy rates have remained the same at 1.0% Australia-wide. The number of vacancies was recorded as 37,049 last month. In comparison, 60,468 were recorded across the nation at the same time last year.
Louis Christopher, Managing Director of SQM Research said, "the rental market remains significantly in favour of landlords with rental vacancy rates remaining at 1%. However, there are now signs of a peak in the rental market in regional Australia with a larger number of regions now recording rising rental vacancy rates and some falls in rents."

Rental values
Over the past month till July 29th, rental values continued to grow across most of Australia's cities for both homes and units–reflecting the tightened vacancy rate. For houses, there was a slight increase of 0.6% over the month nationwide. Additionally, compared to the same time last year, houses have seen an increase of 15.1% in rental values. On the other hand, units have seen a significant increase over the month at 1.3%, and a 15.1% increase over the past year.
In Darwin, unit prices dropped significantly by -5.4%. However, homes saw a 2.4% increase over the month. Sydney saw an increase for both homes and units in July at 1.1% and 1.2% respectively. While Brisbane saw a slight decrease for units at -0.2%, with a price increase on homes of 2.4% occurring over the month. Additionally, Hobart saw a reduction in home prices at -1.4% and an increase for units at 2.3%.
Louis Christopher, Managing Director of SQM Research highlighted, "while capital city rents continue to march higher, it's possible we could be near the peak in the national rental crisis — outside Brisbane, there was no material decrease in rental vacancy rates over June."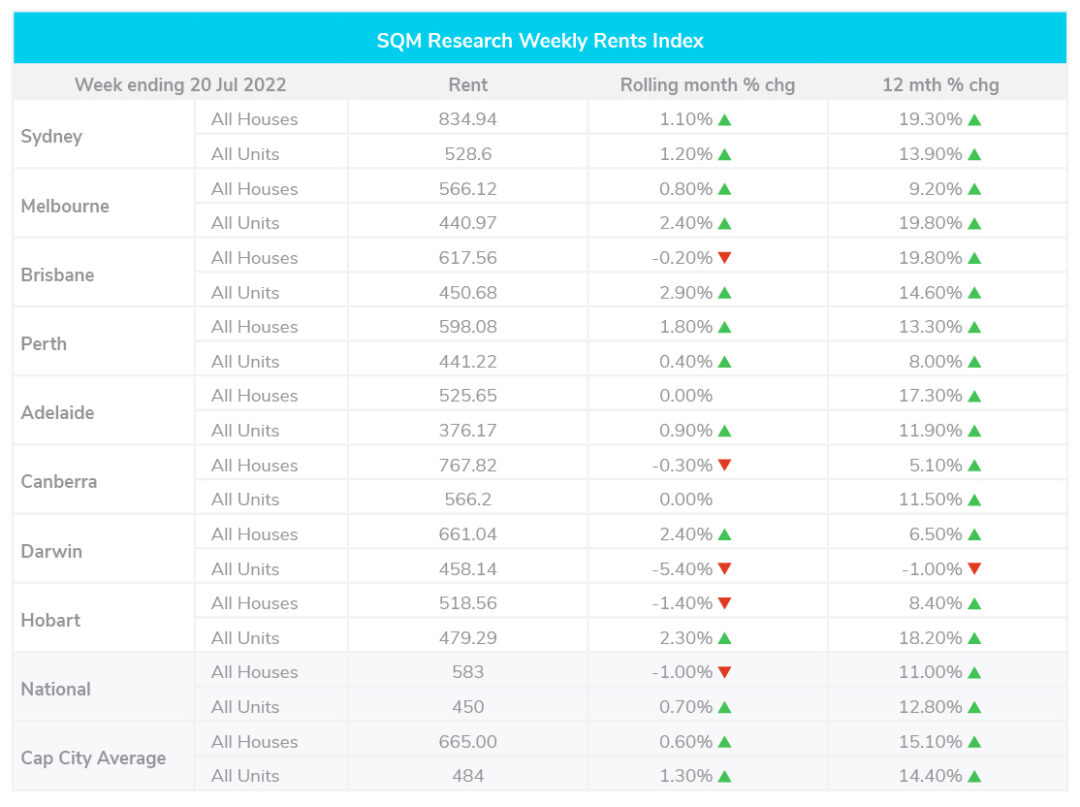 Property prices
Over the month till the 29th of July, asking prices across Australia dropped by 0.8% for homes and 0.6% for units. The greatest drop over the month was seen in Sydney where homes dropped by -1.7%. This was followed by Melbourne and Brisbane, where home prices dropped by -1.1% and -0.5% respectively.
However, compared to the same time last year, asking prices for homes and units nationwide have increased by 17.1% and 16.3%. The asking price for capital city house listings sat at $1.18 million in July, unit listings sat at $600,000.
It was also noted that distressed listings increased over the month, with Louis Christopher, Managing Director of SQM Research commenting, "so, while it's likely we will keep reporting rises over the next few months, it is not something I would be overly concerned about unless numbers rise well above 15,000 properties."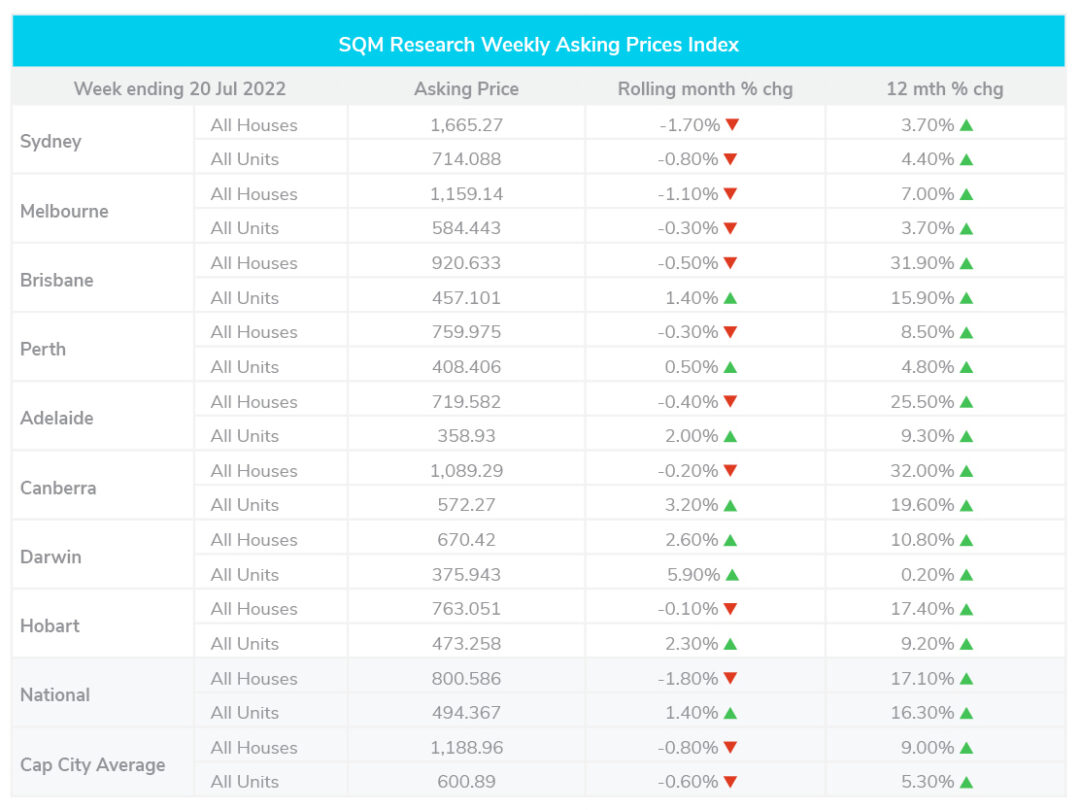 Cash rate and predictions
The RBA has remained 1.35% after being increased in June. This highlights one of the sharpest increases in rates since the early 90s.