Over April, house prices across Australia continued to rise, with Hobart and Sydney seeing the highest increase. While this may be some good news for homeowners, vacancy rates increased from the previous month for the first time in 14 years.
Vacancy rates
For the first time in 14 years, vacancy rates rose in March compared to February.
SQM Research revealed the vacancy rate rose to 2.1% over March. A 0.1% increase from the rate in February. The total number of vacancies Australia-wide is now 72,436. Increased vacancies in Sydney and a reversal of the tight market in regional Australia caused this abnormal rise.
Louis Christopher, Managing Director of SQM Research, said, "Vacancy rates for Melbourne and Sydney remain elevated. The loss of international student tenants due to COVID-19 has hit both cities hard and the ongoing high rate of dwelling completions keeps these rental markets in surplus."
On a positive note, Louis said, "we are seeing increasing signs that the absolute worst for CBD landlords has passed."

"Meanwhile vacancy rates rose in the Blue Mountains, North Coast NSW, Mornington Peninsula rose for the month. It may be a signal we are seeing a return of some of the population back to the inner cities."
In Perth, Adelaide and Brisbane, vacancy rates remain very tight, resulting in a surge in rents across these states.

Rental values
Over April, national rental values decreased by 0.6% for houses and remained unchanged for units.
Hobart saw the greatest drop this month, with a 2.7% reduction for houses and a 1.9% reduction for units compared to March. In Melbourne, the rental values continue to drop, with the second-largest decrease behind Hobart. Year on year Melbourne rental values are down 5% for houses and 11% for units.
However, rents have shown strong growth in other cities including Brisbane, Adelaide, Perth and Darwin. The most significant year on year growth occurred in Darwin, where rents rose by an astonishing 25.9% for houses and 15.6% for units.
Nationally, year-on-year house rents rose by 15.9% while unit rents rose 7.6%.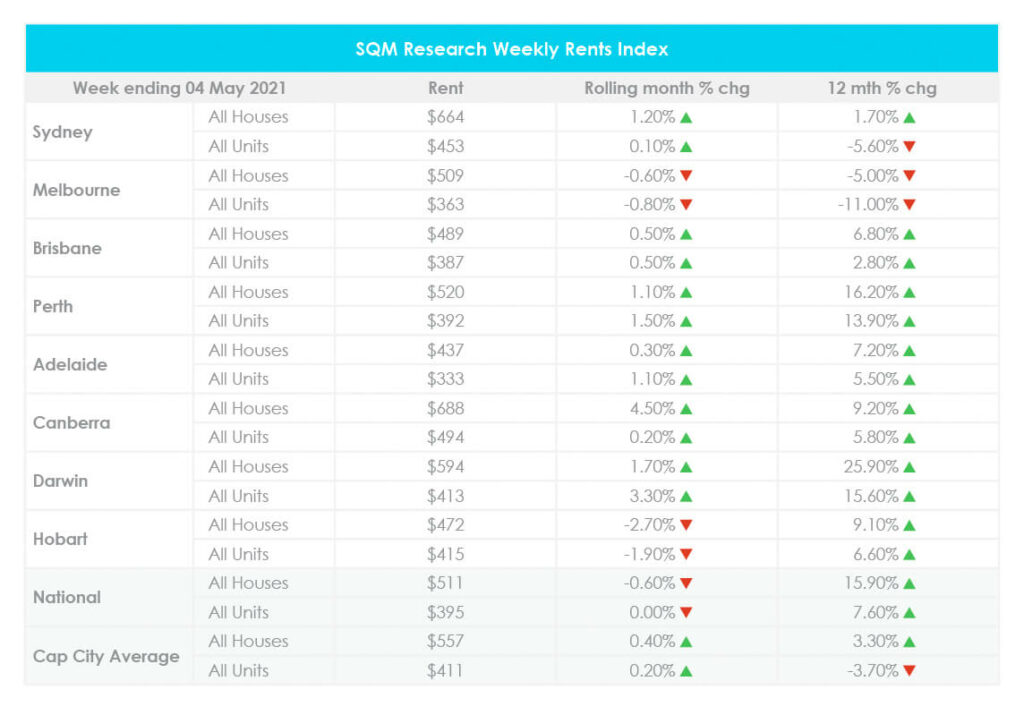 Rental value breakdowns by suburb can be found here.
Property prices
Over April, national asking prices rose by 2.6% for houses and 0.2% for units. The highest gains in house prices occurred in Sydney, with a 6.1% increase in asking prices compared to March. Hobart came in second with a 2.2% increase.

Nationally, the number of new listings (less than 30 days) fell by 2.8% in April with 81,643 properties on the market. The largest drop was seen in Hobart, which was down by 16%. Canberra and Sydney saw a different trend, with an increase in new listings at 10.7% and 4.8% respectively.
Over the year, new listings grew the most in Darwin, increasing by 177.6%.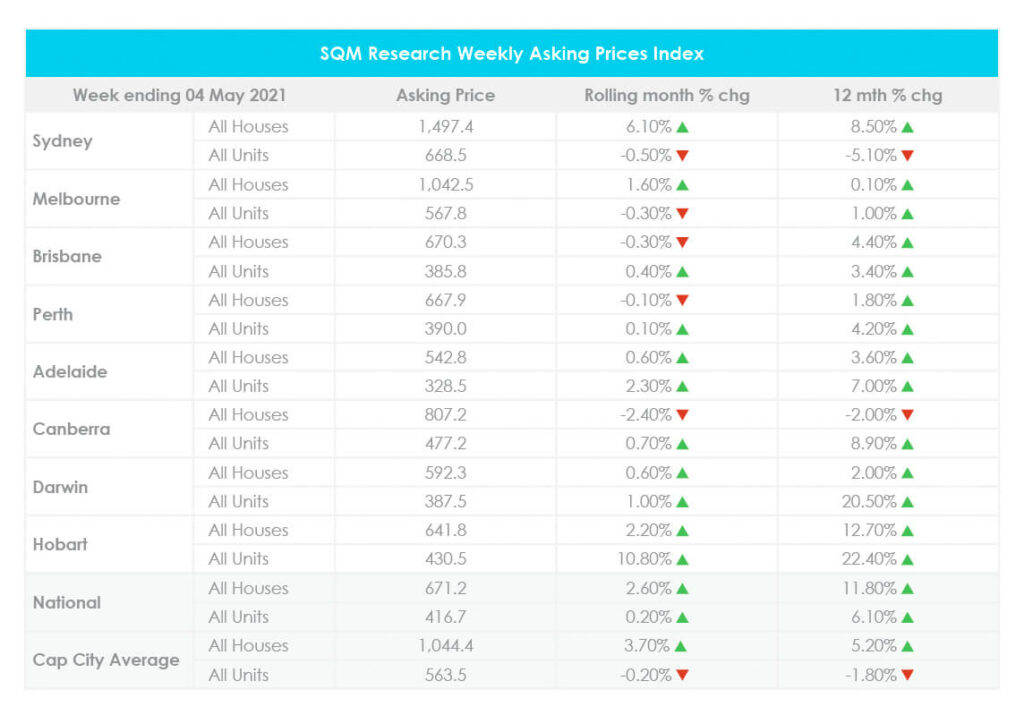 Property price breakdowns by suburb can be found here.
Cash rate and predictions
At its meeting on 4 May, the RBA kept the cash rate unchanged at 0.1%. The board has signalled that the cash rate is likely to remain on hold until 2024 at the earliest.