This month, we're excited to announce the biggest update yet to the PropertyMe Manager app for iPhone and iPad. We've made more than 100 changes – here's Peter with the lowdown:

Introducing Messages for mobile
We've delivered on the number one requested feature for mobile. You no longer need to wait until you're back at your desk to check your email messages. You can now take your inbox with you!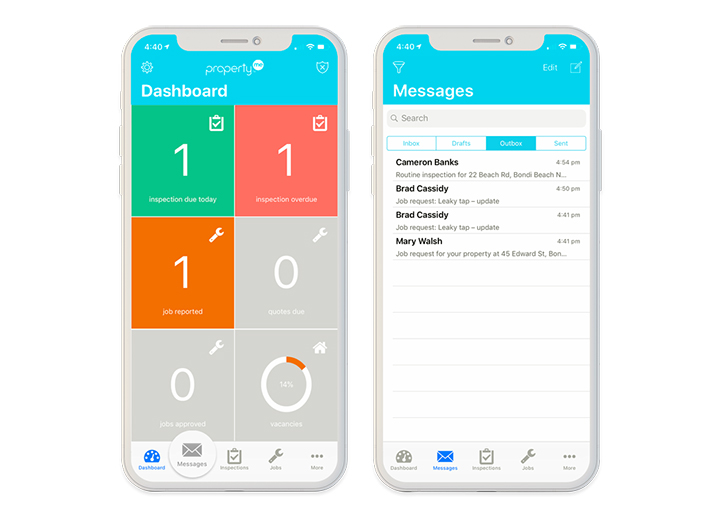 Simply tap the messages tab to view your Inbox, Drafts, Outbox and Sent email messages. You can reply to or forward email messages, insert images, view attachments, change the status and even assign email messages to a different team member, straight from your phone.
You can also filter messages, create threads and complete bulk actions like assign, change status and move to spam. Plus, you can link an email to a property, contact, job or inspection, so it's always right where you need it.
Find My Team and Duress Alert
As every property manager knows, safety is extremely important. So we've added a Find My Team and Duress Alert feature to help you stay safe.
With Find My Team, you can now opt-in to share your location to make it visible on the map to your team members. Your location will only be visible when you are in the app and you can opt-out at any stage via location settings on your device.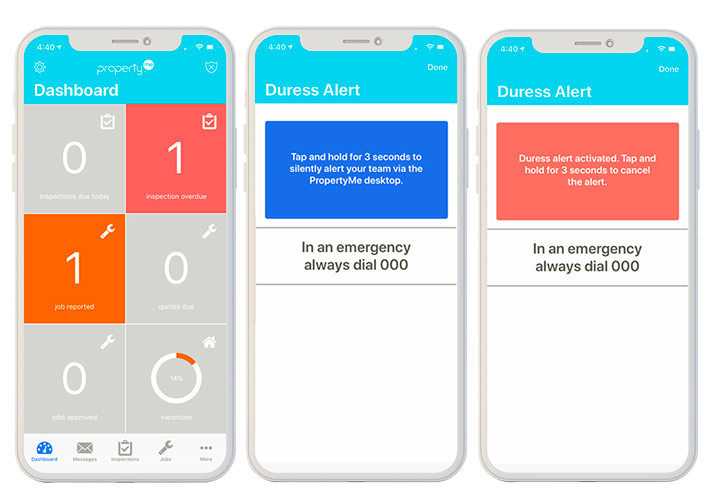 We've also added a Duress Alert that you can subtly activate to alert your team members. The alert will display to all your team members as a desktop notification banner in PropertyMe with your approximate location, date and time. From there, your team members can follow through on your internal process or call emergency services and get you to safety quickly.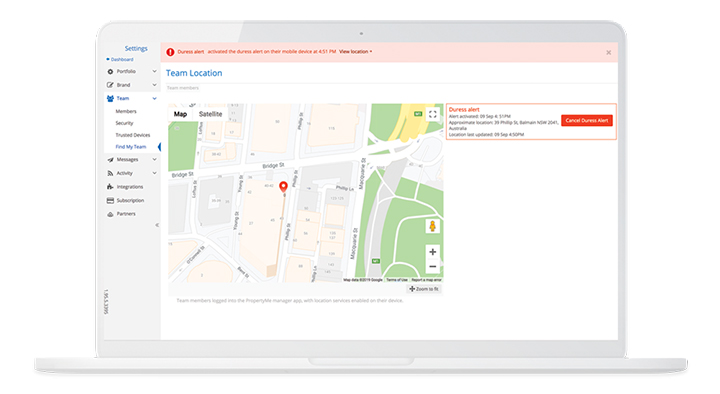 To activate the Duress Alert simply hold down the duress button in the PropertyMe Manager app for 3 seconds. In case of an emergency, please dial the emergency number for your country.
Inspection report enhancements
You now have full control over the items in each area of your Entry and Exit reports and can easily add or remove items while you're out and about.
For example, if there's an issue with the powerpoint in the bathroom, you can now add this item using the PropertyMe Manager app. You can then easily record the issue and attach a photo if required.
Additionally, you can now copy earlier inspection reports into a new report so that you don't need to start from scratch each time. This is particularly useful if not much has changed since the last inspection.
You can copy the entire report or just copy areas and notes. You can also choose whether to copy across previous photos. From within a report, tap the Copy Previous Report button to view all previous reports for this property. Tap on a report to preview it and, if this looks like the one you want, tap the Copy button and confirm.
Intelligent location suggestions
We've added intelligent location suggestions that auto-populate your current location for new jobs and inspection reports.
Additionally, you no longer need to worry if you select the wrong property during an inspection because you'll get a pop-up to let you know that your selection does not match your current location.
If you haven't already, join almost 6,000 users and download the PropertyMe Manager app for iPhone and iPad from the App Store today.
You can read the full September release notes in the PropertyMe Knowledge Base. If you're not a PropertyMe customer yet, book a free demo today to see why thousands of property managers have upgraded to the PropertyMe cloud.
We're always working on new features to make PropertyMe better for you, so if you have any suggestions, please email [email protected] or log a Feature Request.