Curious about what's new at PropertyMe? You've come to the right place. Here's an overview of all the most important updates at PropertyMe that you should know about.
New mobile manager app
We've enhanced the PropertyMe Manager app to transform the way you manage properties!
Many of the beloved features on PropertyMe's desktop app have now also been added to your mobile app. From Inbound SMS to Key Check-In & Out, you can now access everything you need from your mobile.
You can download or upgrade the PropertyMe Manager app by heading to the App Store or the Google Play Store on your device today. Read on to get the low down on each of these new updates.
Updates to enhance your communication
Inbound SMS on mobile
Standard Plan subscribers can now easily send and receive SMS messages inside the PropertyMe mobile app. The best part? Just as you do on the desktop app, you can easily mark your messages by updating the status, assigning team members, and linking messages to properties, Jobs, Inspections, or Tasks–all from your mobile. Talk about being organised!
Plus, never worry about how many message credits you have left. Simply head to your app settings to enable character count on SMS messages. Click here to learn more about Inbound SMS.
Spruce up your messages with emojis and links
An emoji is worth a thousand words. Now you can easily add emojis to all your messages. Likewise, any messages you receive with emojis will now be visible.
Have an important cat-video link you'd like to share? Hyperlinks sent via SMS in the mobile app can now be opened by the recipient.
iPhone users can also:
Add images to email messages currently stored on their devices
Share any images from inside the Manager app with others, for example, an image of a leaky tap in a Job request with your team member
Updates to help you work faster
Mobile Key Check in & Out
In seconds, you can check keys in and out as well as assign a team member, tenant or supplier to the keys. Due dates can also be set for keys, so you can easily see when a key is due, or whether it is overdue.
As soon as you open a property, you'll be able to preview the status of the key whether it is: Checked in, Checked out, Due today or Overdue. Click here to find out more about Key Check In & Out.
Quick actions for iPhone
You've got plenty on your plate. So we'd like to help you move through your day even faster with the iPhone quick actions.
From your home screen, you can easily press and hold the PropertyMe Manager app icon to reveal a list of quick actions. In seconds you can send an email or SMS, and even set up a new inspection or job.
A few other enhancements to speed up your day as an iPhone user:
Sync your Inspection tasks to your iPhone calendar
Images for Inspections and Jobs will now upload in the background
Add a new contact or supplier by selecting existing contacts from your device.
"Use face ID" is now available in your Settings for newer iPhone devices.
Enjoy easy onboarding for new users with new helpful tips that will appear the first time you download the app.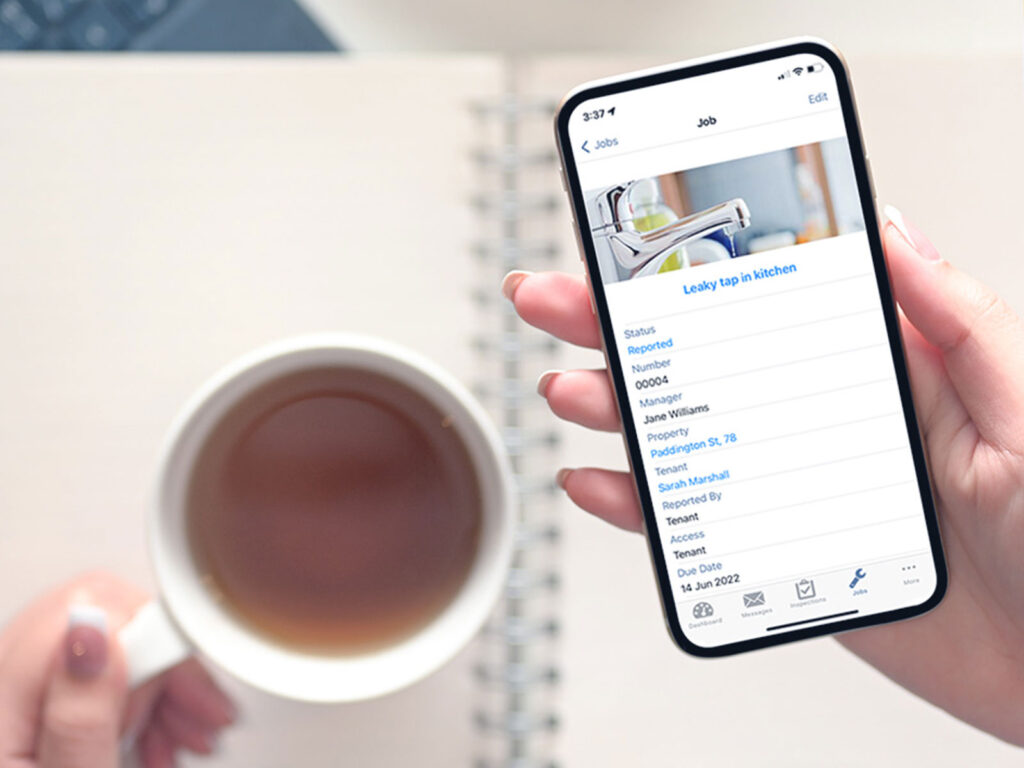 Thanks for reading and stay tuned for our next Release update
We hope you've enjoyed reading about the features we've added to PropertyMe. As always, thank you for being part of the PropertyMe community.