June was a busy month, not only for our team but for the industry at large. As the EOFY edged closer, we buckled down to provide you all with the resources you needed to make it as smooth of a process as possible. When speaking to our community, we were blown away by how organised and on-top of it you all were. It's inspired us to keep that productivity and innovation continuing into the new financial year. So, take a look at what we were busy working on during the month of June.
LIVE EOFY training
During June we ran four LIVE EOFY training sessions to help you get the most out of PropertyMe. We provided attendees with valuable information regarding how to read statements, fix errors and manually add transactions. The sessions were run by Scott Lamin and were attended by many, receiving positive feedback for their insightfulness. Make sure to keep your eyes peeled in the future for more LIVE training sessions!
PropertyMe in Papua New Guinea
In the last month, we had the privilege of launching PropertyMe in Papua New Guinea—with the assistance of John Peppas. John travelled to Papua New Guinea to aid the team at Professionals Lae with their migration. He stated that "it was a pleasure to work with the team who were happy, cheerful and willing to learn". He also went on to add that "the Property Managers used the PropertyMe mobile app with no issues, and the benefits were seen even after the first use". The launching of PropertyMe in Papua New Guinea is extremely exciting as we not only welcome new members to our community, but also continue to expand internationally.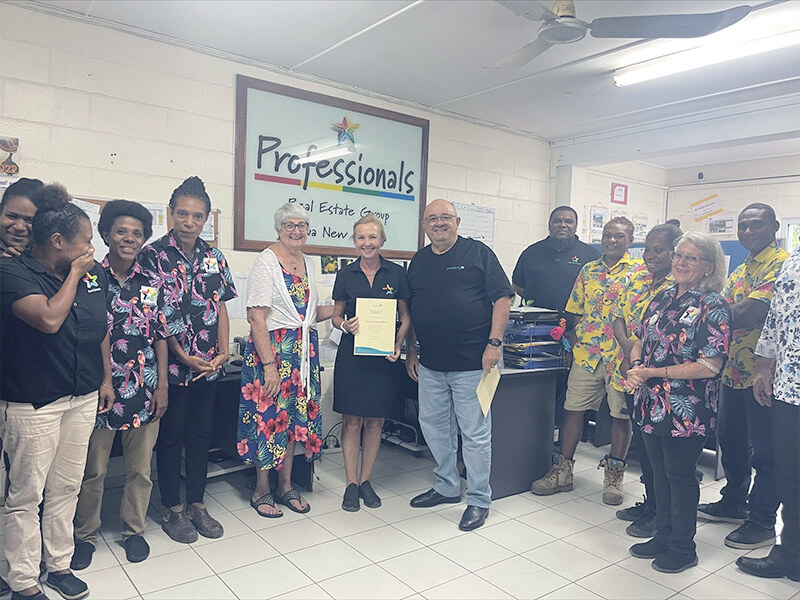 June release
In June we had the pleasure of releasing nine new features and updates. These included, but were not limited to—Inbound SMS, Key Check In & Out, quick actions for iPhones and emojis and hyperlinks for SMS messages.
The introduction of Inbound SMS for Standard Plan users was a highly requested feature. Allowing users to send and receive SMS messages from inside their PropertyMe mobile app. SMS messages sent to your portfolio are now also visible inside your mobile Inbox. So you can reply and stay on top of your messages while you're on the go. Key Check In & Out was also a highly requested feature, allowing Standard Plan users to quickly manage their keys from inside the PropertyMe mobile app. For more information on our June feature release click here.
EOFY Lunch & Learn
Another month, another Lunch & Learn run by Christina and Peter. However, this month was particularly special as we shared our tips on how to stay on top of your EOFY tasks. We were also joined by the lovely Tam from Balance Rec n Roll who provided us with many insightful EOFY tips and tricks. It was great to see the community watching along, and if you missed it you can catch up here.
Behind the scenes at AREC
As mentioned last month, we had the privilege of meeting so many of you at AREC 2022. Thankfully, we collated some of these beautiful moments into a behind-the-scenes video. We were able to speak to some of our partners, such as Josh from REAL+ and Nina from Property Management Partners. The video perfectly summed up our experience at AREC, and if you weren't able to attend we suggest giving it a watch to keep yourself updated.
Thank you for taking the time to read about June at PropertyMe, we look forward to sharing new updates with you again next month!
Let us know your thoughts on our peek into the month of June at PropertyMe by emailing [email protected].