The winner of the REB Women's Regional Residential Property Manager of the Year 2019
The winner of the REB Regional Residential Property Manager of the Year 2019
The winner of the REIA Residential Property Manager of the Year 2019
Lately Tameka Smith has been picking up awards like the rest of us pick up bread and milk. A self-made property management success story, this Tasmanian worked her way up through the industry before starting her own property management company, Key2 Property.
But how did she become so successful in such a short span of time? This and other questions are what we put to Tameka when we recently sat down for a chat.
The early years
From a young age, Tameka's father had instilled a solid work ethic in her—the catchcry of "be the best that you can be" was a constant—but as a teenager she was unsure of exactly where to direct this drive.

Tameka was working in property valuations when she was approached by a well known local real estate agent, who asked her to join his team. The job was at Woolcock Partners in Launceston, and Tameka found that she both enjoyed the work, and excelled at it. From that moment forward, it was to property that her energy and drive was directed.
Her next and most influential employer was LJ Hooker Launceston. It's both to the owners Jill and Cole, and the organisation as a whole, that Tameka credits much of her later success. LJ Hooker, she says, has one of the best training and development programs in Australia. Over her six year tenure she worked her way up to the position of Department Manager, developing her knowledge and skill set all the while.
Going it alone
Having armed herself with the necessary knowledge and expertise, Tameka felt the desire to create something of her own.
She saw a gap in the market for an agency with a focus on quality over quantity and communication, whether that be with landlords, with tenants, or internally within teams. Indeed, in Tameka's own words, communication is the key to property management. Thus the rental department at Key2 Property was born.
The Key2 sales department was opened in September 2015 to service the greater Launceston area. Organic and sustained growth soon followed. The property management department was established in April 2016 by Tameka, with 100 properties being put on the books in the first six months alone.
To continue scaling her business, Tameka began to take on staff—the current count of property managers is six, with Zali, the first hire, remaining to this day.
Becoming the best
A commitment to excellence soon brought Tameka and the Key2 team recognition, including such honours as: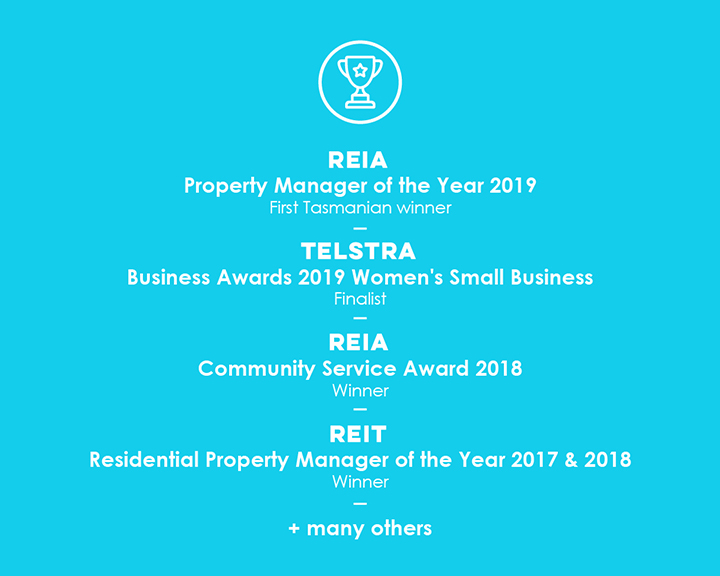 But the true success of the organisation can be measured in more objective business numbers.
Key2 is setting the gold standard in the industry for both client and staff retention—"I still manage the first rental I ever managed," Tameka says with a smile. She says that starting her own business remains her proudest achievement, and rightfully so, as Key2's reputation as both an employer and a service provider is immaculate.
But the best seldom rest, and Tameka has no intention of sitting on her laurels. Her goals for 2020 and beyond are:
To put an ever-greater focus on retention—Tameka knows as well as anyone that it's far more cost-effective to retain good clients and staff than to continually find new ones.
To refine her business to make it even more streamlined and customer-focused.
To assist her team in becoming even better at what they do, through structured support and mentorship.
This last point goes back to the mantra that her dad instilled in her all those years ago—be the best that you can be.
Lessons learned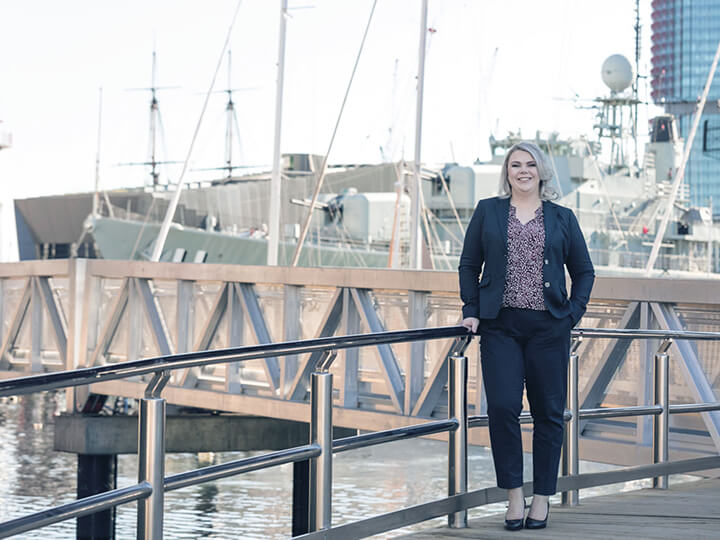 Having started from the bottom and made it to the top, Tameka isn't short on property management knowledge and experience. She enjoys the role of mentor, passing lessons learned onto others and contributing to the success of others.
So what pearls of wisdom does Tameka have to offer the next generation of property managers? Here are just a few:
The importance of mentors: Without the likes of Mr Woolcock and her time at LJ Hooker, she says she wouldn't be where she is today.
Quality over quantity: Tameka has a policy of turning away properties that don't meet Key2's standards, something that she has thus far done 40-odd times.
Communication is key: If you're clearer, more responsive and more understanding than your competitors, business will come to you.
A life outside of work: Work shouldn't be your sole purpose in life. Tameka sits on the board of the Richmond Investment Fellowship that works in the mental health space, and volunteers at the Migrant Resource Centre helping teenagers learn English.
Budding property managers looking to make it in the industry undoubtedly face a mountain of work to get there. But if Tameka's story shows us anything, it's that when you're driven and committed to excellence, there's very little that can stop you from succeeding.
Humans of Property Management is a new series on the PropertyMe blog that will showcase the lives and stories behind the property management industry.
Know someone who should be featured on Humans of Property Management? Email [email protected] to let us know.