Michelle Williams isn't one to sit on her hands.
Managing Director of @home Property Management Solutions, and listed by Elite Agent as one of Australia's top 50 influencers in the real estate industry, it wasn't so long ago that Michelle was cutting her teeth at a local Launceston establishment, first as a receptionist, then as a property manager.
Her story is one of adaptation, evolution and perseverance, and sets the perfect example for any budding property manager looking to make their mark in an ever competitive industry.
From humble beginnings
Michelle was first introduced to property management by a friend back in 1997. It was her friend that helped her get the "job" conducting property inspections three days a week with Peter Lees Real Estate. Her daughter Annalyse was just two years old at the time.
Michelle soon settled in, and over the course of 12 years at the company she wore a number of different hats, eventually rising through the ranks to be one of their first Business Development Managers, not only was she offered this position, she designed it and put forward her own business plan demonstrating how it could work.
It was at this point that she experienced a change of mindset—the business side of the industry turned out to be just as interesting as the property management side, and Michelle ended up being every bit as good at it, listing close to 200 managements in the first year.
Stepping out on her own
Armed with a business partner, now Husband, Matt, a converted shed and an endless supply of enthusiasm, Michelle made the well educated decision to step out on her own in 2009, using the knowledge she had built up over a dozen years.
@home Property Management Solutions started with exactly zero clients. There were only two independents in the market at the time, with big players dominating. By positioning @home as a business focused solely on property management, Michelle saw an opportunity to shake up the market.
And that's exactly what she did.
Servicing the Launceston CBD and surrounds, @home quickly gained a reputation for having all the things that the more established players lacked—speed, agility and a distinct personal touch.
The pursuit of excellence
In the decade since, @home hasn't taken a backward step. A team of 13 now manages 750 properties in the Launceston area, while retaining the intimate levels of service that the company has become known for.
Good service, according to Michelle, is just not good enough. She grew her business by creating nothing less than raving fans. With a minimal marketing budget early on, the business instead brought in new customers organically through word of mouth, a trend that continues to this day.
"97% of our business comes from someone talking about our service," she confirms. "Going back a decade, it was all about dealing with conflict, managing time well and having a strong personality. Now I believe the most important attribute is to have strong customer service skills."
And she's careful to ensure that everyone who joins the team fits into the service-first culture of the agency. She then develops the skills of her team members by offering them the best training possible, whether internal or external.
The fruits of her labour are there for all to see. The growing business is one element, but another is the standing that Michelle now enjoys in her industry, evidenced not only by her position in the aforementioned list of Australia's top property industry influencers, but by the awards that she regularly collects personally, not to mention the multiple business accolades.
These include being named Australia's Number 1 Property Manager at the REA Excellence Awards (AREAs) in 2013, and Mentor of the Year at the 2019 REB Women in Real Estate Awards.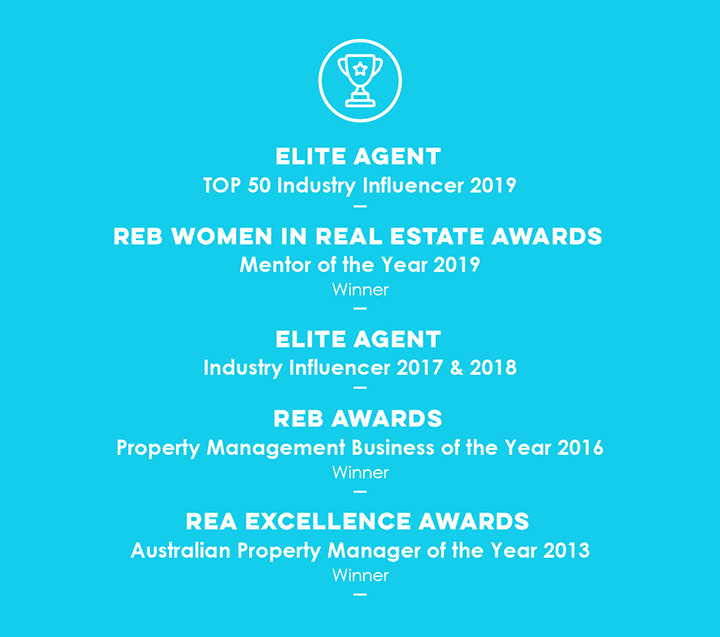 The keys to success
To what does Michelle owe all of this success? To her it has been about adaptability, resilience, and avoiding complacency.
It only takes a short amount of time with Michelle to realise that she's an eternal optimist. She knows that life is short, so believes that you should do all that you can to capitalise on good health and opportunities.
She has a deep appreciation of the role of mentors, with the likes of Debbie Palmer, her very first trainer, and Peter Lees, her first employer, both offering invaluable advice during her formative years.
Having such a depth of understanding of property management gives Michelle greater foresight than most as to how the industry might develop into the future. Her goals for this year and beyond reflect these potential changes:
For @home to be less reliant on her, and more self-sustaining
To move some of her senior property managers into mentor roles
To better support her team and ensure they succeed, while increasing levels of job satisfaction (a key to minimising the turnover that plagues the industry)
To use introspection and reflection to become a better leader, mentor and person
Despite all the accolades, followers and happy customers, Michelle knows that property management stands still for no one, and those who don't continually seek to improve both themselves and their business are destined to be left behind.
But if there's one thing that Michelle has shown over her years in the industry, it's that there's just one place she'll ever be – at the very head of the pack.
Humans of Property Management is a series on the PropertyMe blog that showcases the lives and stories behind the property management industry.
Know someone who should be featured on Humans of Property Management? Email [email protected] to let us know.