A national rental crisis is emerging as vacancy rates drop to a new 16-year low. It is predicted vacancy rates will likely drop again over the coming months. Additionally, capital city rents will likely rise by over 10% in 2022. Currently, rental rises present the biggest increase since the 1970s, meaning there will be major impacts on inflation.
Vacancy rates
A national rental crisis is emerging as vacancy rates drop to a new 16-year low. The most recently available data reveals vacancy rates fell to 1.2% in February, dropping from 1.3% in January.
Over the past month, the number of vacant properties in Melbourne and Sydney CBDs dropped significantly. In the Melbourne CBD rates dropped to 2.8% from 4.0%, while in the Sydney CBD rates fell to 4.3% from 4.5%.
Currently, there are 43,844 residential vacancies in total Australia-wide, a drop from 47,977 in January. Sydney, Brisbane and Melbourne all saw a drop in vacancy rates to 2%, 0.9% and 2.3%. While in smaller cities including Hobart, Darwin, and Canberra, vacancy rates remained below 1.0%.
SQM Research predicts there will be a further drop in vacancy rates as international borders reopen. Additionally, the shift from work from home to in the office is likely to further lower vacancy rates in CBDs.
Louis Christopher, Managing Director of SQM Research said, "Overall, it is likely vacancy rates will fall again over March as the first week recorded yet another decline in rental accommodation listings. Some slight relief may be at hand as the current seasonal tightening we have seen at this time of year generally comes to an end over April."

Rental values
Over the month till March 12th, capital city asking rents grew substantially to 9.4%. This increase is likely to fuel inflation further. More specifically, rents for houses rose by 0.5% sitting at $627 per week, and 0.4% for units, sitting at $447 per week.
The largest increase in asking rents for houses was seen in Brisbane, Canberra and Peth. Sydney and Melbourne house rents remained steady. Compared to the same time last year, there has been a dramatic increase in capital city asking rents, rising by 9.4%.
Louis Christopher, said, "We can expect capital city rents to rise by over 10% in 2022. As it stands, the current rent rises represent the largest increase since the 1970s and so there are major near terms ramifications for inflation. Housing is the highest weighted group in the CPI, accounting for around 23% of the basket."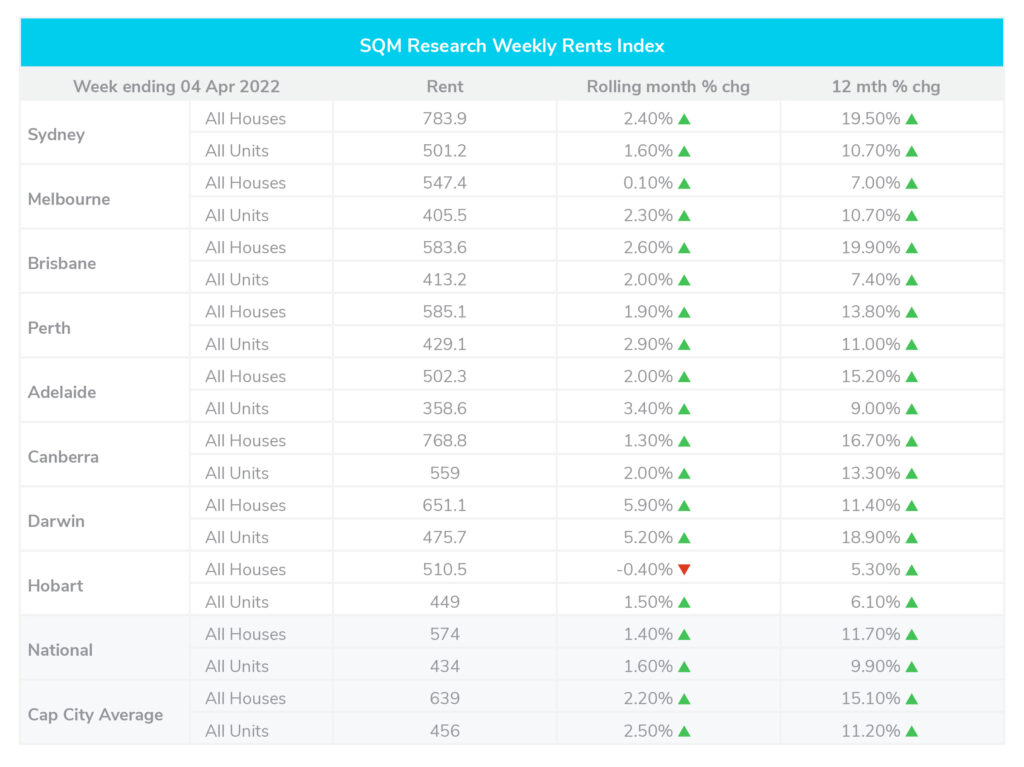 Property prices
Over the year, asking prices skyrocketed by 21.1% for houses and rose by 14% for units. Over the last month, prices saw an increase Australia-wide of 0.6% for houses and 0.3% for units. During this same period, asking prices in Sydney dropped by 0.4% for houses and 1.1% for units. In capital cities, house prices rose by 0.8% for houses while unit prices dropped by 0.7%.
Louis Christopher, Managing Director of SQM Research said: ''The rise in listings over March will be welcome to home buyers who largely struggled for choice, last year. However, we still have a shortage of stock in the market, particularly for Brisbane and Adelaide. Those two cities continue to record massive housing price rises as a result. Going forward I expect we will shortly enter into a lack lustre period of activity in the lead up to the Federal Election. After that point there will be a looming interest rate rise for the market to consider."