Vacancy rates have continued to drop, reaching their lowest point since 2006. Compared to the same time last year, vacancies have halved. Accordingly, rental values continue to rise Australia-wide for both homes and units. Additionally, for the first time in over 11 years, the RBA has made the decision to increase Australia's cash rate.
Vacancy rates

According to the most recently available data, residential property vacancy rates have dropped to 1%, their lowest since 2006. This is a significant drop compared to the same time last year when rates were at 2.0%. Highlighting vacancies have halved over the past 12 months, bringing the total number of vacancies to 36,868.
Across Melbourne, Sydney and Brisbane, vacancy rates dropped to 1.9%, 1.6% and 0.7%. A sizeable drop from 2.3%, 2% and 0.9% in the previous month. Vacancy rates remained well below 1.0% in the smaller capital cities including Canberra, Perth, Darwin and Hobart. In Sydney CBD, vacancy rates fell to 3.4% from 4.3%. In Melbourne CBD, rates dropped from 2.8% to 2.4%.
Louis Christopher, Managing Director of SQM Research said, "The rental crisis has deepened with rental vacancy rates across the country falling to just 1%. As a result, market rents have exploded. Some of our capital cities and regions are recording asking rental increases in excess of 15% over the past 12 months."
Rental values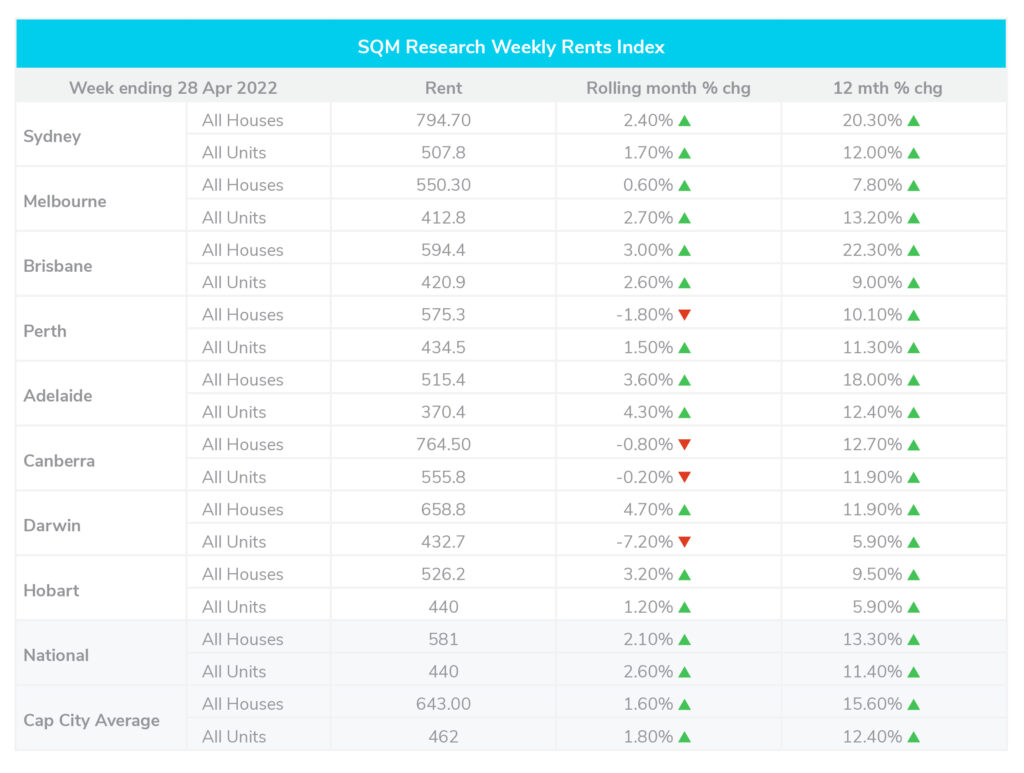 Over April, weekly rents continued to rise, increasing by 2.1% for houses and 2.6% for units Australia-wide. Over the past 12 months, values have risen by 13.3% for houses and 11.4% for units, reflecting the increase in vacancy rates.
The largest increase in rental values over the month was seen in Darwin at 4.7%, followed by Adelaide, Hobart, Brisbane and Sydney which saw an increase of 3.6%, 3.2%, 3%, and 2.4% respectively. Meanwhile, Canberra and Perth saw a drop in values at 0.8% and 1.8% respectively during the month. While Melbourne saw a slight increase in house rental values at 0.6%. Although Darwin saw a large jump in values for houses, units dropped by 7.2% in value over the month. Canberra also saw a drop in unit rental values at 0.2% over April.
Over the past year, Sydney saw a significant increase in rental values with homes growing by 20.3% and units increasing by 12%. The largest growth in rental values for homes over the year was seen in Brisbane, rising by 22.3% for houses. Comparatively, house values in Melbourne rose by 7.8%.
Louis Christopher commented on the current "rental accommodation emergency" we have at present noting, "The recent monthly data suggests we are still not at the worst point of the crisis. We were thinking at least regional Australia may have started to have some relief as people return back to the cities. But that has not happened as yet. Many localities and townships are recording zero vacancy rates.
It is likely homelessness will be increasing in this environment."
Property prices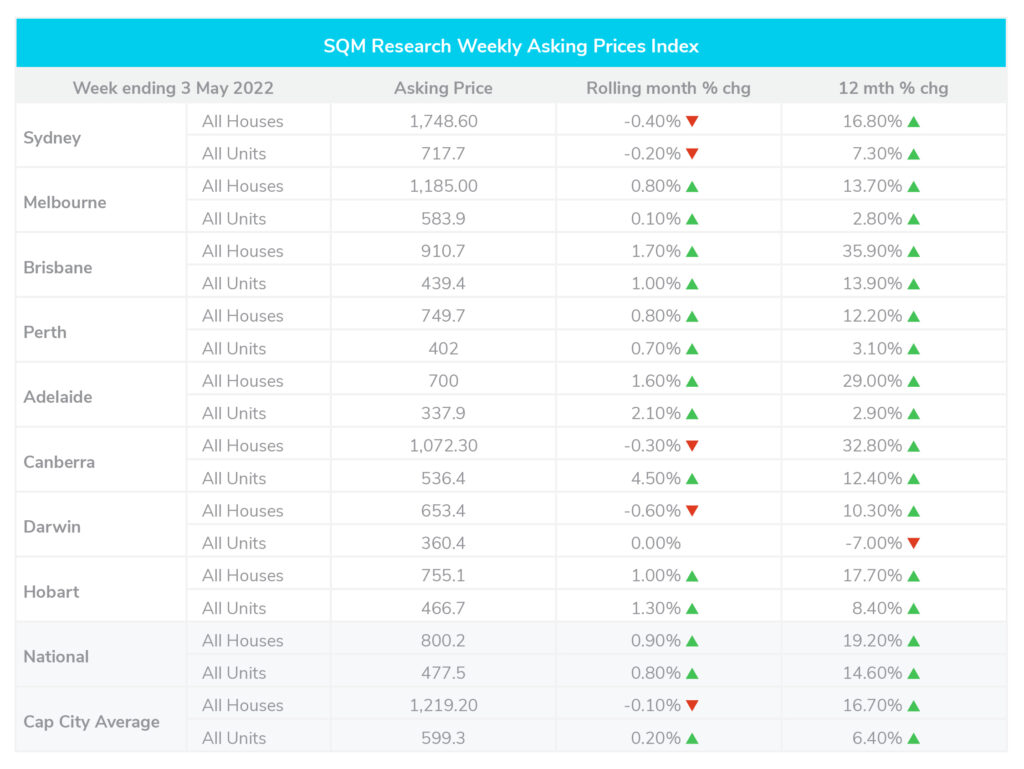 Over the past 12 months, homes have seen an increase of 19.2% Australia-wide, and units rose by 14.6%. Nationally, there was an increase of 0.9% for houses over the past month and a 0.8% increase for units during the month.
Over the past month to 3 May 2022, capital city asking prices for houses and units remained steady. Over the past year, however, prices have grown by 12.2% for both houses and units combined. For house prices specifically, there has been a 16.7% increase over the past year. While units in capital cities have seen an increase of 6.4% during this period.
Over the past month, a drop in prices for houses was seen in Sydney, Canberra and Darwin at 0.4%, 0.3%, and 0.6% respectively. Every other capital city saw an increase in prices for houses including Melbourne, Brisbane, Perth, Adelaide and Hobart. The largest increase was seen in Brisbane at 1.7%, followed by Adelaide at 1.6%, and Hobart at 1%.
Cash rate and predictions
This week on the 3rd of May, the Reserve Bank of Australia (RBA) increased Australia's official cash rate for the first time in over 11 years. The RBA brought the rate up from 0.10 per cent to 0.35 per cent, up by 25 basis points. This means an owner-occupier with a loan of $500,000 and 25 years remaining on their mortgage will see a rise of approximately $65 per month. Commenting on this historic decision, RBA Governor Dr Philip Lowe noted, "The economy has proven to be resilient and inflation has picked up more quickly, and to a higher level than was expected."